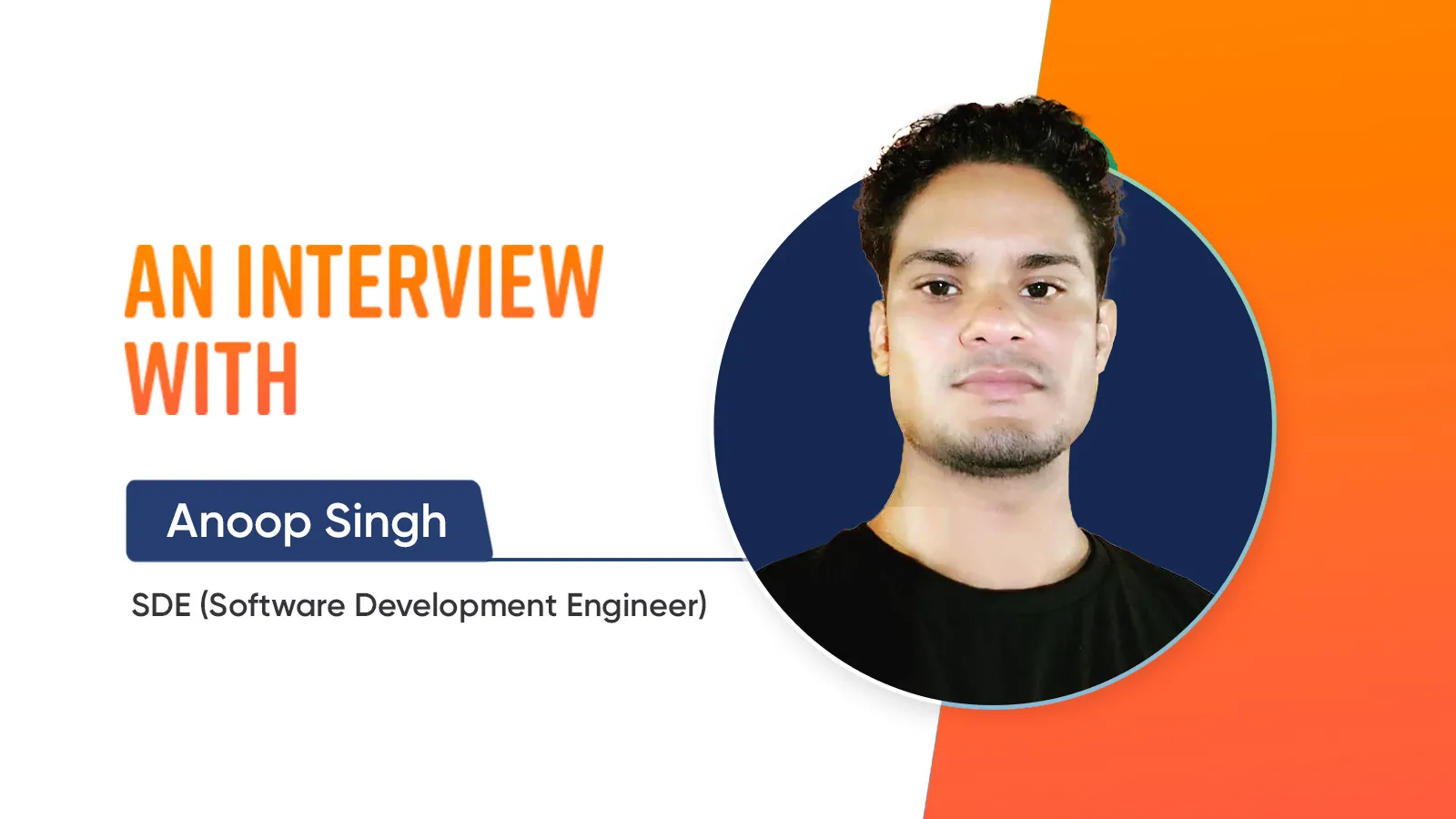 Celebrating Anoop Singh's Success Story: The 'Magician' of Drupal Development at Valuebound
I recently had the opportunity to speak with Anoop Singh, a Software Development Engineer and the "Magician of Drupal Development" at Valuebound. Anoop joined Valuebound in 2020 and has achieved notable success in delivering error-free projects and earning client satisfaction. Anoop has been felicitated with several awards recognizing his outstanding team performance. Here's an excerpt from my conversation with Anoop. 
Can you share your experiences as a software engineer? What were some of the most significant challenges you faced in professional growth and development?
Anoop: I have had a fulfilling experience as a software engineer. I received a lot of praise from my team and clients, which made me and my family proud of my accomplishments. I am content with my role and would like to express gratitude to Valuebound for the opportunity.
In what ways do you feel Valuebound has supported your growth as a software engineer? What are the key takeaways from your time here? Can you also discuss some notable contributions or projects that have contributed to your technical and professional development?
Anoop: I began my tenure at Valuebound in February 2020. The company has been instrumental in my growth as a professional. I have acquired plethora of skills, including managing multiple projects, leading teams, implementing team members' growth plans, and utilizing advanced version control systems. The daily standup (DSM) of the project and monthly business updates were new concepts for me, but I was able to quickly adapt with the help of my excellent and supportive team members.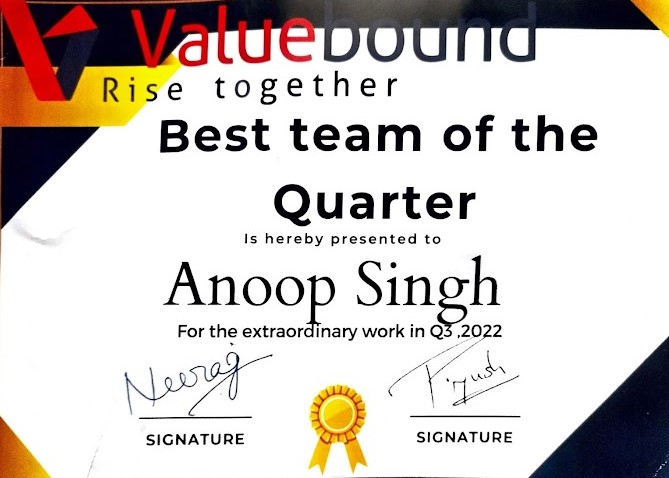 I wanted to ask you about your personal goals, driving force, and aspirations. If you could pursue any profession other than being an engineer, what would it be?
Anoop: Earlier, I was uncertain about what I would choose, but I firmly believed in the power of hard work. When I was in 10th grade, I attended computer classes. After that experience, I decided to delve deeper into the field. This led me to complete my degree in Computer Science and pursue a career in the technology industry.
How do you stay updated on new technologies and industry advancements? How do your team and manager assist in your professional development? 
Anoop: Indeed, I am constantly striving to improve and stay current. Recently, I obtained a certification in Introduction to Drupal site-building from Forcontu, which is a Spanish training center. I was the only student from India in the class, and I ranked fifth during the course. This achievement was possible due to my willingness to seek guidance and collaborate with others.
Can you share some examples of projects where you were able to showcase your renowned problem-solving abilities within the Valuebound team? 
Anoop: I have actively worked on multiple projects at Valuebound and also provided support on other projects. I am capable of handling multiple projects at the same time and enjoy taking on challenges. 
One of the most challenging projects I have worked on was for one of our clients, but it was also a great learning experience. I was brought on to the project in July 2021 and was able to complete my work in October 2021, two months ahead of schedule, receiving positive feedback from my team.
You have been recognized as "Magician of Drupal". At Valuebound, you received many awards and recognitions for your contributions. Can you share more about that?
Anoop: Frankly speaking, I am sometimes surprised by my own abilities, especially when I'm able to accomplish tasks quickly. I am truly appreciative of Valuebound for recognizing my contribution through multiple accolades, including being honored as part of the "Best Team" for my outstanding team performance. I have also been felicitated with other titles such as 'The Spontaneous Recognition Award', and received gift vouchers for Drupal contribution.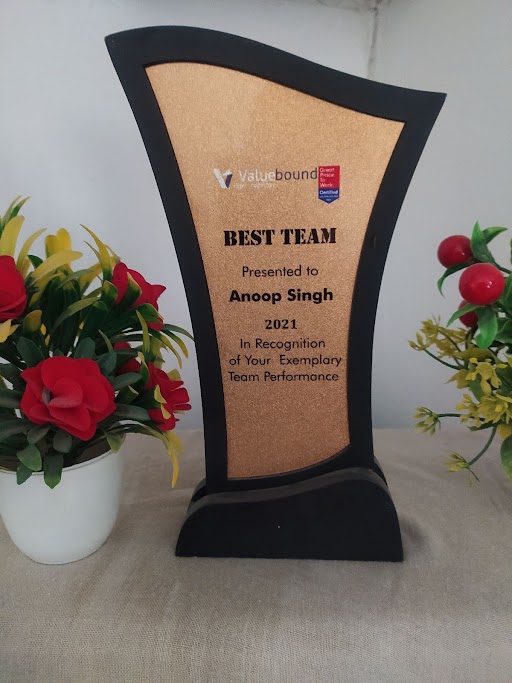 My work has always been error-free and clients were always satisfied. They even gave me a recommendation on LinkedIn and called me a "magician."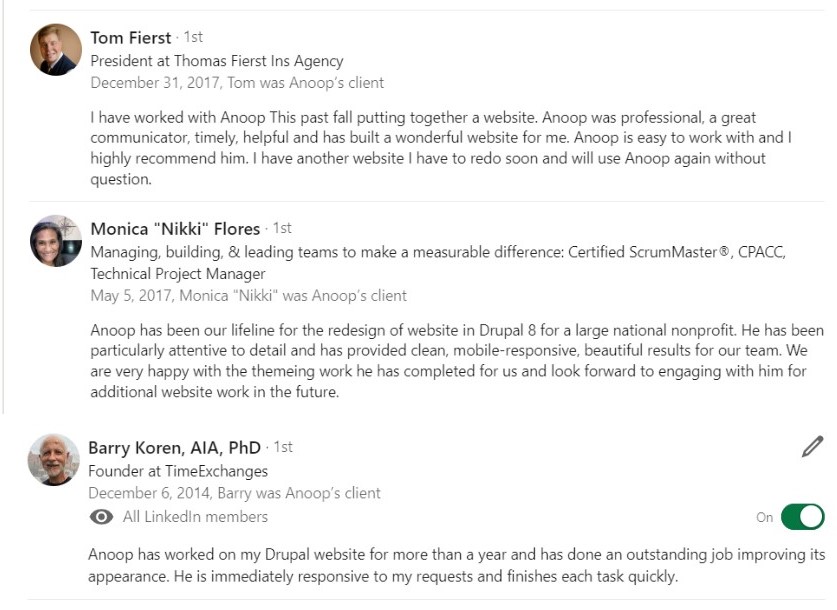 As a seasoned software developer, what guidance would you offer to those just starting out in the field?
Anoop: As a software engineer, much of your time is likely spent in front of a computer. However, it's crucial to consider what you're doing during that time. Are you utilizing it to enhance your career and growth? Are you using it to develop new skills or contribute to the community?
By actively engaging in these activities, you can effectively communicate your progress and achievements on digital platforms. This will allow you to share your journey and showcase your growth within the tech industry, which is constantly evolving. Therefore, it's necessary to stay up-to-date with these changes and continue to learn and practice new skills.