Why relationship building is the key to successful marketing?
Cultivating relationships has been always an important part of sales and marketing, and it will always be. Attracting a stranger, converting them into a lead and providing solutions to their pain problem are the significant part of a marketing strategy.
Much has been talked from the developer's perspective. Here in this blog post, I will talk about relationship building, why it is important and how it is applicable in an IT company? Apart from that, I will also discuss on 'Why and How' of Marketing based on Relationship Building.  
Relationships are still the driving force for how professional get the jobs they want and how the sales representatives outperform the rest of their team. These relationships are not built in a day or two. They require good professional networking.
This blog will focus on different agendas of relationship building or relationship marketing, which include Why, How and Challenges need to be tackled.
According to an article published by Forbes, a business is only as good as the clients it serves, and no business gets far after losing the clients it has.
Research shows that even with the best products and business practices, you still need strong relationships to succeed in this marketplace. Respect is at the core of building business relationships, management consulting firm Leading Insight said.
Sticking to the deadline is of utmost importance as it shows the value. At the same time, we need to grow in order to attract more and more customers.
Irrespective of whether we have prominent services in the world. At the end of the day, it all boils down to relationship building. So it is not just about an organisation or a brand. People by people first. 
Why we need to build relationship with clients?
People work with individuals who they like. So of course our objective as a business is to improve the life of a customer. The idea here is to tell how important relationship building is and how you can adopt it in your day-to-day life.
Relationships are not built overnight, it takes time to nurture. Strong, enduring client relationships are the lifeblood of the most organization. Understanding what your customers like, dislike or care help serving the business. As a solution provider, we also need to think from customers perspective in order to better understand "what they need?"
So, how can we create an enduring, institutionalized customer relationship? 
The answer to this question lies in what Andrew Sobel calls it Northeast Quadrant. In this space, first, an individual professional managing the relationship evolves his or her position from an Expert-for-Hire to a Trusted Advisor. 
Second, the company should develop its relationship from a narrow one based on few services to a broad one founded on multiple relationships. Third, as Vendor, the entity is responsible to broaden the relationship and develop a significant revenue from the client.
Lastly, becoming a Trusted Partner is an ultimate goal in order to be a trusted advisor to your customer and to deliver outstanding results. As a Trusted Partner, you lead your customer's agenda.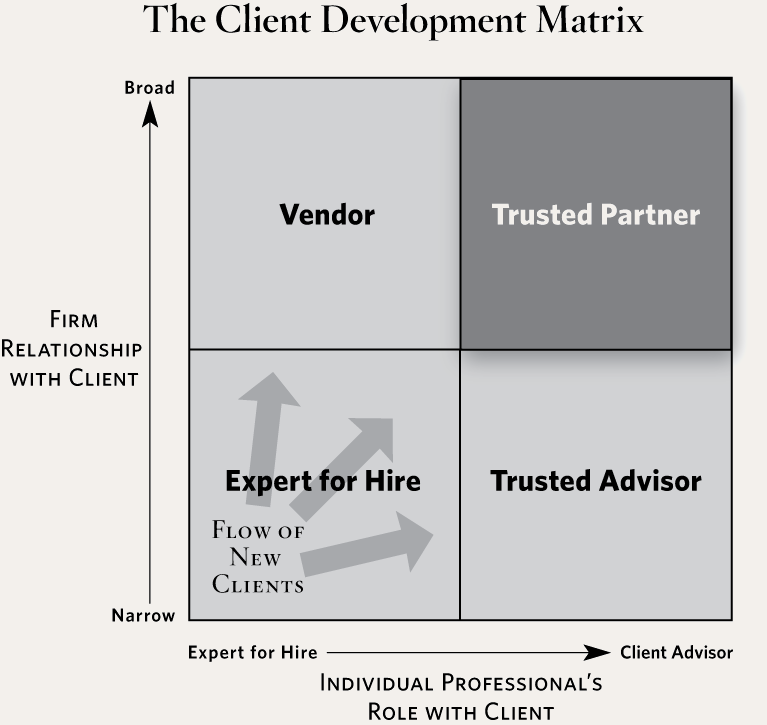 What are the ingredients of building a good strong relationship?
The basic ingredients for building a healthy relationship with clients are trust, respect, mindfulness, communication and right approach.
I am sure you will be thinking, how does customer feel that you are one among them or part of their team? It happens only by communicating prospective customers on a regular basis. For this, we need to get to the right person so that an organisation get more and more customer.
It is our responsibility to make sure that communication part is taking place properly as well as how we can collaborate with the customers, listen to them and take the regular feedback.
Here comes the next, what are the strategies to build trusted client partnerships?
Strategy one: To become an agenda setter
Strategy two: To develop relationship capital
Strategy three: To engage new customers 
Strategy four: To institutionalize client relationships
Strategy five: To add multiple layers of value
Strategy six: To target the right customers
Strategy seven: To build a client leadership pipeline
Strategy eight: To promote partnership
Strategy nine: To listen your clients
Strategy ten: To create a unique client experience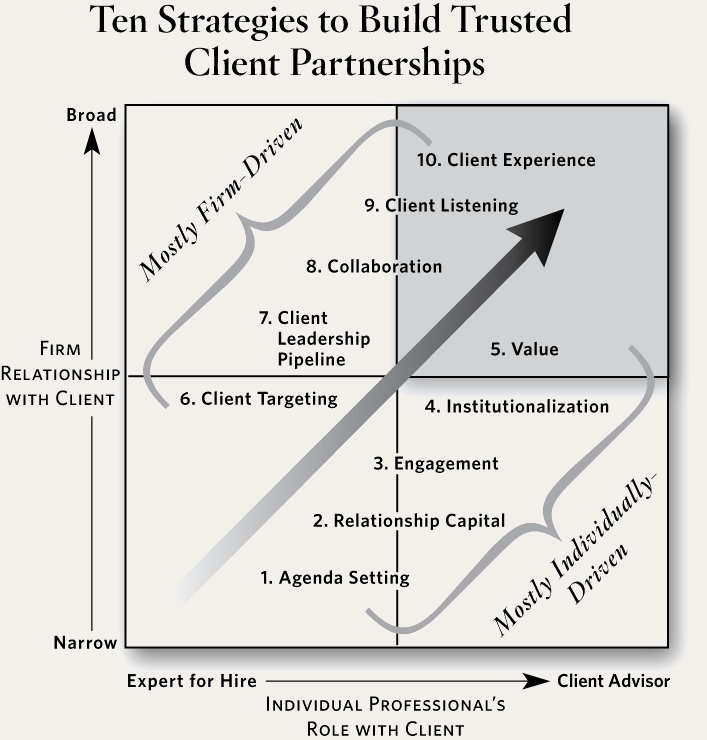 Finally, what are the challenges that hinders building trusted client partnership?
We presume, meeting the deadline that means delivering the product on estimated time helps in building trusted client partnership. Yes, that's right!! However, at the same time, you need to accept your customer in terms of culture. 
It's always good to clear the doubts with the clients as well as share minutes of meeting to make sure you are not missing anything. While sticking to the deadline plays a significant role. Always remember that business is all about Relationships, Relationships, Relationships! It takes a long-term commitment to earn success.
People buy People first! Each one of us can make a difference….
Below given is a presentation on how to build client relationship through marketing.