How Big Data Strategies Are Being Employed By Media Companies
With the price for storage of digital media and bandwidth hitting rock bottom and the vast number of digital devices and ease of accessing data online, there is a growth in employing big data strategies and implementations. There are a number of ways drupal can be used for custom big data strategies. Drupal is quite big technology now on CMS as well as a CMF front. Latest technologies are always worked upon and adapted to, by the Drupal community. First, let us have a look at how reduce in cost for data storage and technology has influenced media industry.
The data storage costs globally have crashed to almost 100% through the years 1992 to 2013, which is from $569 to $0.02 per GB of storage and global bandwidth costs dropped by 99% from 1999 to 2013, i.e. from $1245 to $16 per 1000 MB per second, according to Deloitte research reported in Mary Meeker's 2014 Internet trends report.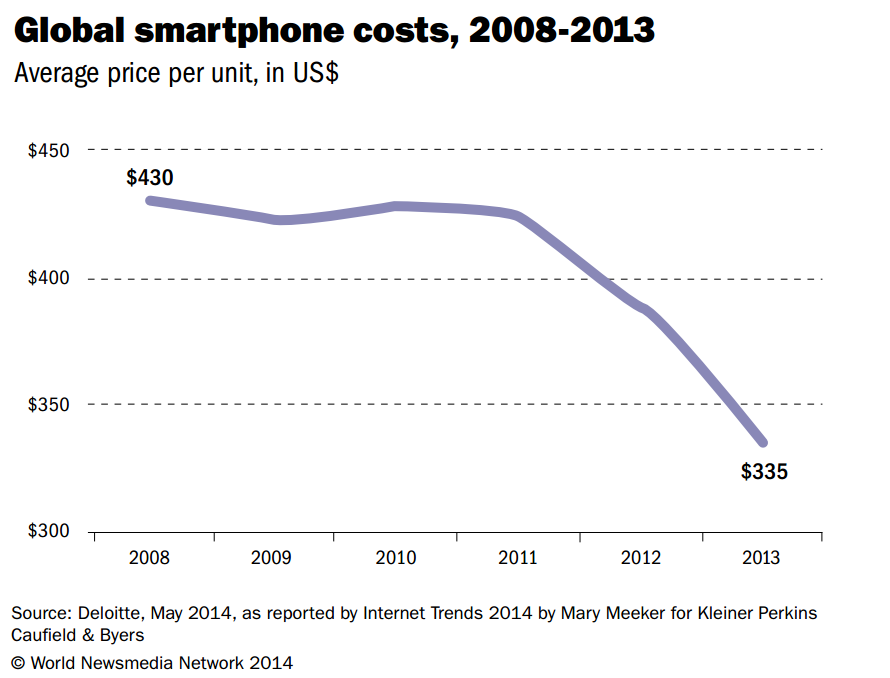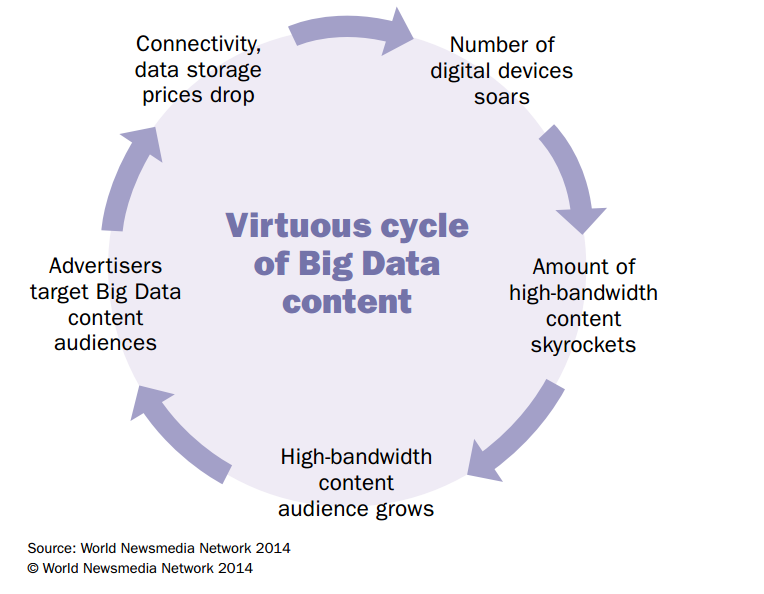 The average costs of smartphones globally has dropped from $430 to $335 through the years 2008-2013 which is a 22.1% decrease. Some cell phone manufacturers are producing ~$100 smartphones to enable affordability which is in turn driving the global average of smartphones and similar devices even lower. These steep decline in prices of technology has made it more affordable and given rise to the big data explosion, connectivity like never before, cheap access to multimedia news and information. This has created a multitude of possibilities for new businesses.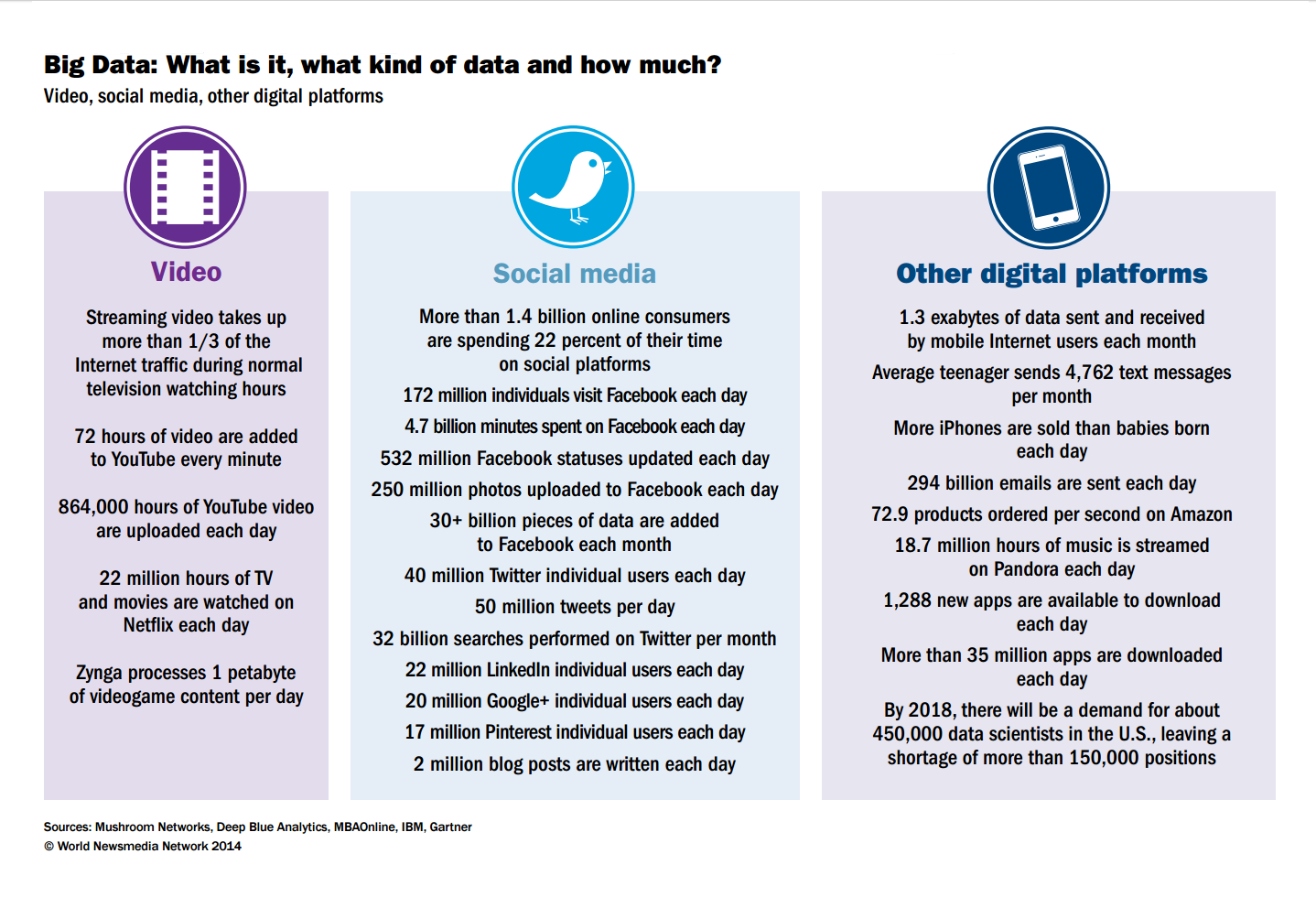 Let's look into some key strategies that top media companies employ using big data management:
Huffington post  uses big data and small data to improve their user experience. They employ the use of real-time dashboards, social trends, recommendations, moderations and personalization to improve user experience using big data. Their use of small data is to  improve UX from reporting, headline optimisation, SEO, content efficiency and consumer research.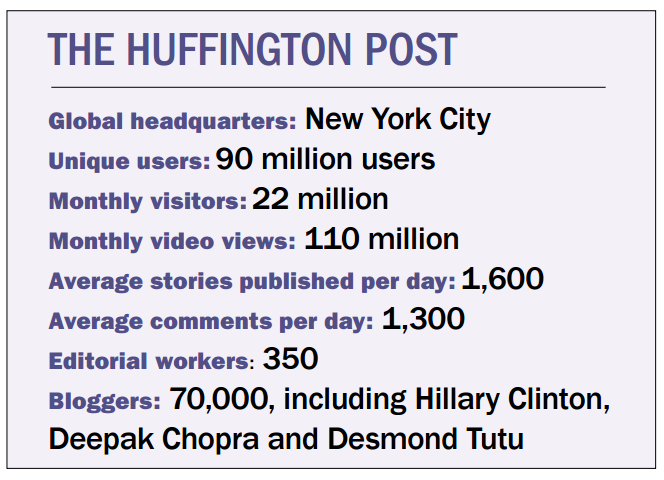 Dunnhumby has collected 10+ years of Big data and use it to improve customer loyalty and sales. This applies directly to the nascent Big Data strategies in the media industry. Tesco's clubcard scheme enables a customer view of retail and other data, which inspires greater customer understanding and in turn driving better business decisions, which grows loyalty and brand value. Media companies can learn from the systematic approach from dunnhumby, the force behind the Clubcard.
Financial Times build customer "signatures" of each individual customer's digital consumption of data and use that information to understand the customer's preference. This helps them create relevance of their communications and personalize what they have to offer. They employ intelligence to customer touch points, such as customer service, website, mobile apps and third parties.
CNN uses Big Data as an early warning system for breaking news. They map what their audience listen to using big data technologies and it helps them summarize how their users consume news in real-time and how major data sets are filtered and presented as stories.
BBC uses data journalism to provide insightful, personally meaningful and shareable visual explanations on the BBC's biggest and most momentous stories
Channel 4 is currently working on innovation of the television business model using big data by connecting to their millions of already registered viewers. This helps them to segment viewers into groups, create personalised emails, suggest tailored content recommendations and serve relevant advertising. 
Archant regional newspapers take into account the prevention of data leakage and give it a high priority as targeting advertising through a third party becomes more common. They believe that Data collected from users on media companies sites should belong to those media companies, not third parties like Google. There are techniques to stop the data leakage, and strategies to leverage the data for media companies who own it.
Magazine is in the early stages of employing big data strategies, their ultimate goal being making their sensor data, images, databases, location based data, email, HTML, social and clickstream data more actionable in the future.
Sacramento Bee have developed their big data strategy in such a way that it includes technology systems, business models, cultural issues and tracking issues. They are working with consultants and academics to refine their plans for the future. 
Many companies are already employing Big Data strategies to fit their revenue models and making it scalable to match the fast pace of this changing world of technology. Every company has their own strategies and ways to implement them that cater to their own specific needs. First step of employing big data management strategies is to understand your own current processes and customer behaviour on which further actions can be mapped out. 
Insights on Big Data from Beyond the Media Sector will help us understand the power of big data and possibly new innovations in your brilliant minds.