Roadmap for digital transformation in supply chain management
61% of respondents find technology as a competitive edge in supply chain, and many of them find emerging technologies as key areas of investments, a Gartner survey underscores. Emerging, evolving and maturing digital technologies are key factors that provide competitive advantage to supply chain companies. 20% of the respondents are keen towards investing in one such technology of robotics.
Key areas of focus in supply chain management are the technologies which can easily manage assets, and help with human decision-making. Andrew Underwood, Partner, Supply Chain Operations at KPMG (UK) says, "The future of supply chain is going to be enabled through technology, ecosystem, people, and capabilities, only we can dream of at the moment."
In our previous blog, we discussed how a supply chain company must define its vision into technical capabilities. In this blog, we aim at providing a roadmap on how leaders can digitize its operations across the supply chain.
Creating a robust vision
Creating a vision for transforming supply chain management largely depends upon a key step- assessing your supply chain business, and knowing where the technical capabilities presently stand. Therefore, the companies must gather data by anchoring them on following base points:
Decision-Making: Technologies like Machine learning can update legacy systems, and support human decision making, which is a key focus area of supply chain management. 
Automation & Innovation: Gartner predicts that data science, advanced analytics, and artificial artificial intelligence will become a key offering amongst supply chain management application vendors in the next 4 years.
Data: Are you collecting and generating the entire data required for your vision? And is it rightfully stored for you to access it easily?
Software & Hardware: Do the business systems enable analytical capabilities which are needed by the company?
Talent: Does your business have digitally-sound talent that can operate and transform the supply chain in future? Does your business culture encourage innovation, continuous improvement, and willingness to experiment?
Today, analytics depends on off-the-shelf applications, which can help in extracting transactional data and insights, which will be more worthy rather than insights collected through traditional sampling and survey methods. 50% of the supply chain organizations are investing resources in AI and advanced analytics capabilities through 2024, Gartner suggests (Fig. 1)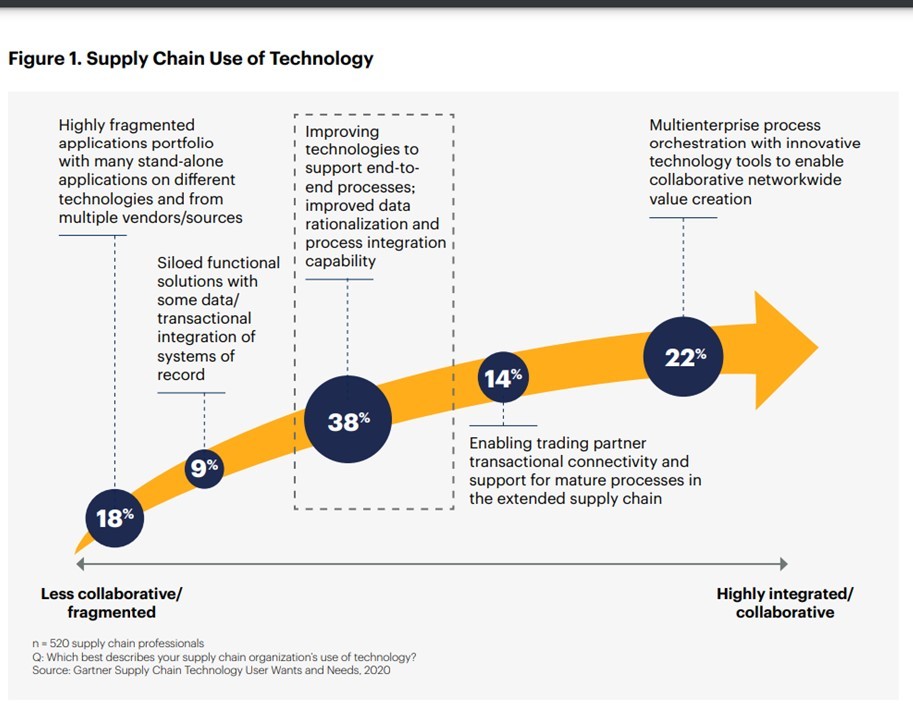 Developing a Roadmap for Supply Chain Digitization
The teams must identify scope for operational improvements, and thus build digital solutions, which will support capabilities that are already present. With the help of root-cause analysis, shortfalls come into forefront, and this helps in charting digital journeys for potential changes.
No-regret changes, as defined by McKinsey, can yield high value, and fewer implementation barriers. Depending upon the levels of urgency, each company can segregate their digitization efforts into different categories (Fig.2)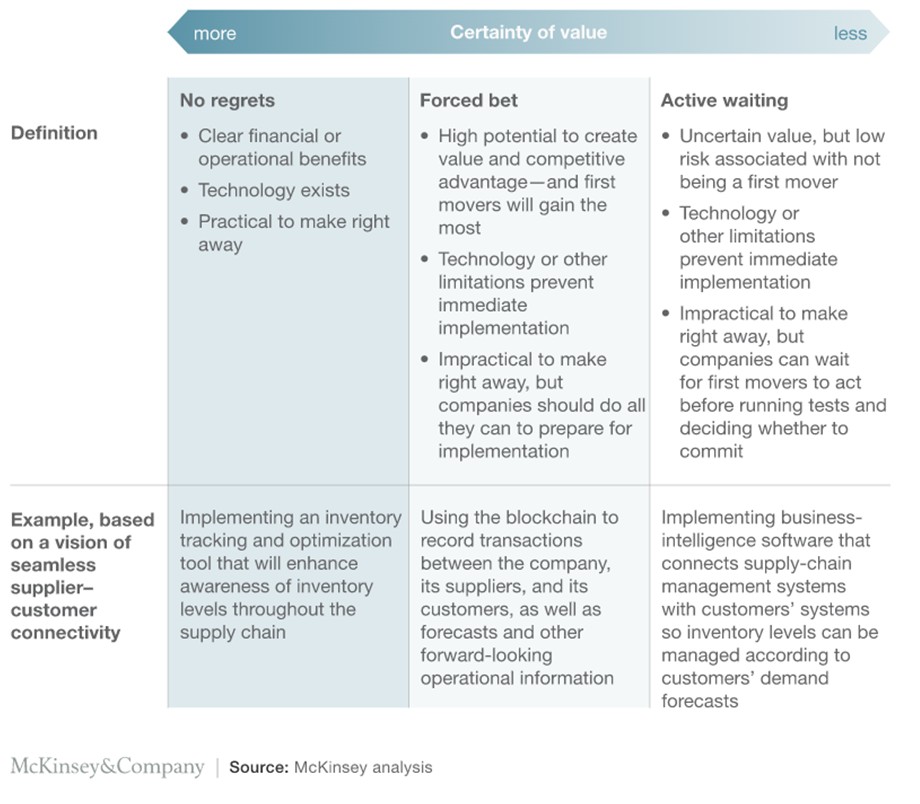 But what are "no-regret" changes? These are the changes which are implemented on the contemporary models, and are easily quantified in respect with cost, capital, service, and agility. For instance, by deploying a tool that assists with inventory tracking and optimization, a supply chain company will enhance its awareness regarding the levels of inventory throughout the supply chain. This brings direct financial and operational benefit, and adds great value to the business.
Clarity in strategy will help you in implementing suggestions, such as these:
Implementing SCMS: Digitizing supply chain needs software that can support your vision. Supply-chain-management software and digital logistics solutions, for example, can help in streamlining processes, overseeing transactions, and managing relationships with your suppliers. The software must be scalable across your long-term, multi-year digital strategy though.
Implementing RFID: Radio Frequency Identification (RFID) will help your business in creating coherence and improving connectivity throughout the supply chain. This will make the process more efficient, data-driven and transparent across production, distribution, and retail. This will help businesses in increasing the return on investment. How capable is an organization in converting RFID data into its business intelligence also defines the kind of ROI you will achieve. Research suggests that the average time across industry for recovering RFID investment is around 30 months and falling.
Implementing GPS: Global Positioning System implementation brings in the benefits of increased transparency, security, and accountability. Also, it provides insights around cost analysis. GPS helps in contributing towards interconnected digital supply chains by way of transparency and tracking.
Implementing robotics and automation: Improvement and efficiency around omnichannel retail sales, inventory updates, email automation, tracking information, and payments is a direct benefit of automating processes across the supply chain.   Likewise, robotics implementation, especially in the packaging supply chain. Some of the key developments revolve around artificial intelligence, machine learning, navigation, response and sensor capabilities, and public policy and regulatory reforms.
Recap
By prioritizing changes, the companies can organize action plans into a multi-year roadmap. Meanwhile, side processes like making changes in organizational and operational processes, and across talents, can help in setting up a stage for successful digital revamping.
One example of successful implementation of machine learning in planning and forecasting demand is Mahindra & Mahindra. Aniruddh Srivastava, Head of Demand & Supply Planning at the company, in a recent conference said that Machine Learning and Artificial Intelligence are the cornerstones of their digital strategy. Mahindra & Mahindra increased its forecast accuracy by 10%, which in turn also improved its service levels by 10%, and reduced inventory investment by 20%.
Disciplined assessment, and long-term roadmap for transformation are two key ingredients that can help companies in reaping benefits. Companies that can employ operational and technological transformation have a better chance for using digital transformation to its full potential. Talk to us about deploying the latest digital technologies for improved supply chain performance at a modest cost.