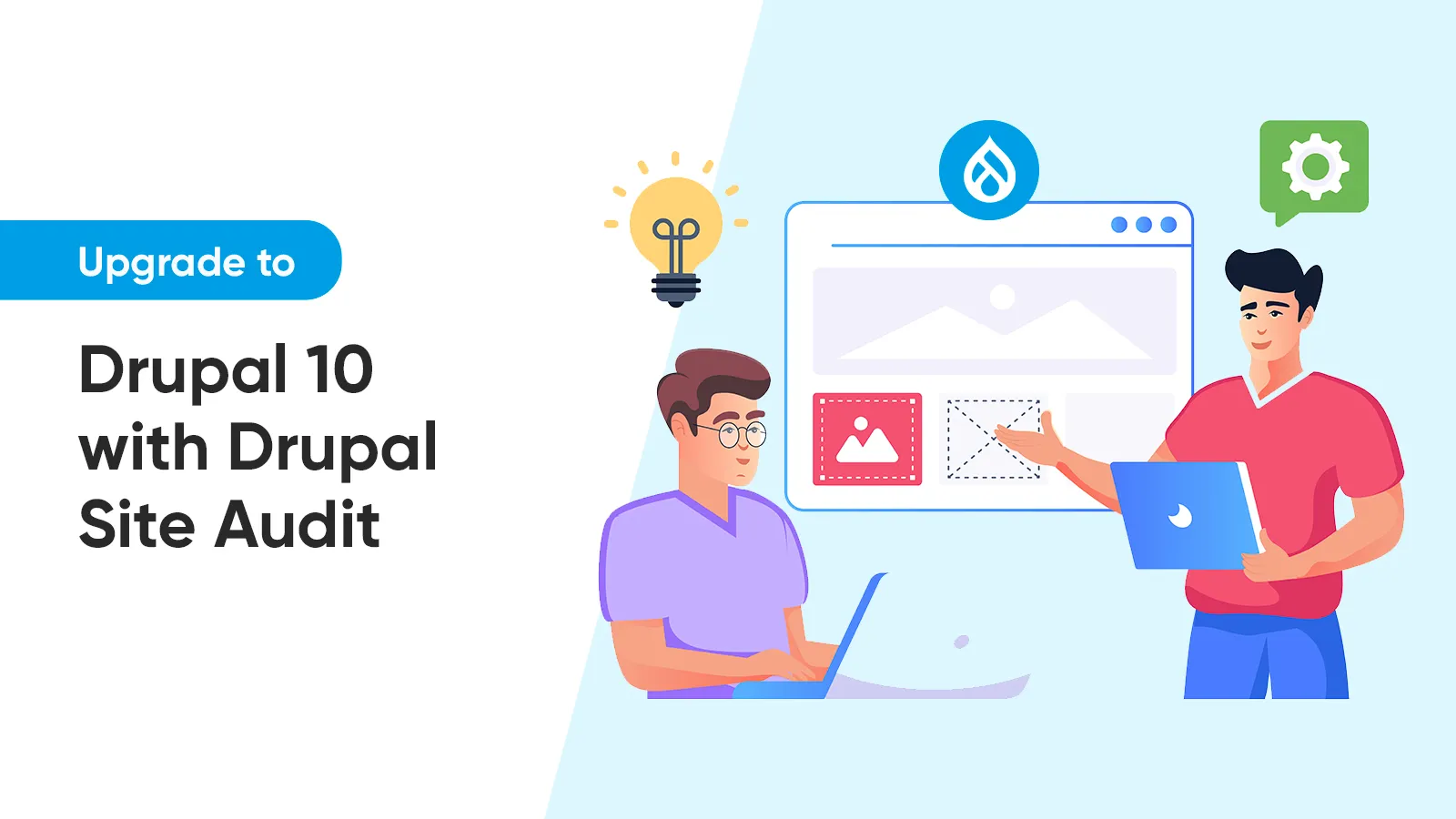 Upgrade to Drupal 10 with Drupal Site Audit
Drupal 10 is here with its all-new features and several benefits and what's more exciting is that upgrading is easier than ever. There were 771,407 websites using the Drupal core project as of December 25, 2022 (using the Update Status module). The graph below shows the weekly project usage of D10 (Fig. 1).

Releasing D10 in December 2022 came with its own sets of advanced features and benefits, most prominently-
Allowing site owners more time and control over their content by stabilizing CKEditor
D10 came with Symfony 6.2 which includes bug fixes and improvements over the current 6.0 release
The security teams have comparatively lesser work to do with this release
From the looks of it, D10 is the best version of Drupal with its Claro theme, front-end Olivero theme, New starter kit theme, decoupled menus, and much more.
If you're looking for Drupal Site Audit this handy guide can help you remain at the top of your game by improving security, and performance and preparing it for upgrades and enhancements. Regular monitoring and site audits can help you stay updated with Drupal best practices.
Why should you consider a Drupal site audit?
While Drupal site upgrade is essential to stay in tune with the latest features and modules, a holistic site audit also helps with maintaining site security and personalization on the site among other challenges.
Drupal 10 release has opened an exciting box of new features that can help a site gain a competitive advantage.
If you have an older site version (Drupal 7 or 8) and are ready to migrate to Drupal 9 or the latest versions, it is a must to go for a site audit to ensure a smooth and successful migration, and also to understand the current status of your site. It is important to understand the obstacles to CMS migration and ways to overcome them before you decide to migrate to Drupal 9 or Drupal 10.
Site Audit for D10 Upgrade: Know your eligibility
Whether or not you are eligible for Drupal 10, a site audit report can suggest the same (Fig. 2). If you're using the older versions like Drupal 7, 8, or 9, the road to upgrade to D10 means that the following requirements must be met:
Your site must update to at least Drupal 9.4.4
Sites using CKEditor 4 should upgrade to CKEditor 5 in Drupal 9.4 or 9.5
Sites should update their .htaccess files
Sites should update any copies of .htaccess or web.config
New developer feature to show debug markup for render caching has been added. Sites should ensure that their site-specific services.yml includes the new section
Site owners can update their settings.local.php to maintain consistency and forward-compatibility
Drupal 10 requires PHP 8.1 or higher
Drupal 10 recommends Composer version 2.3.6 or higher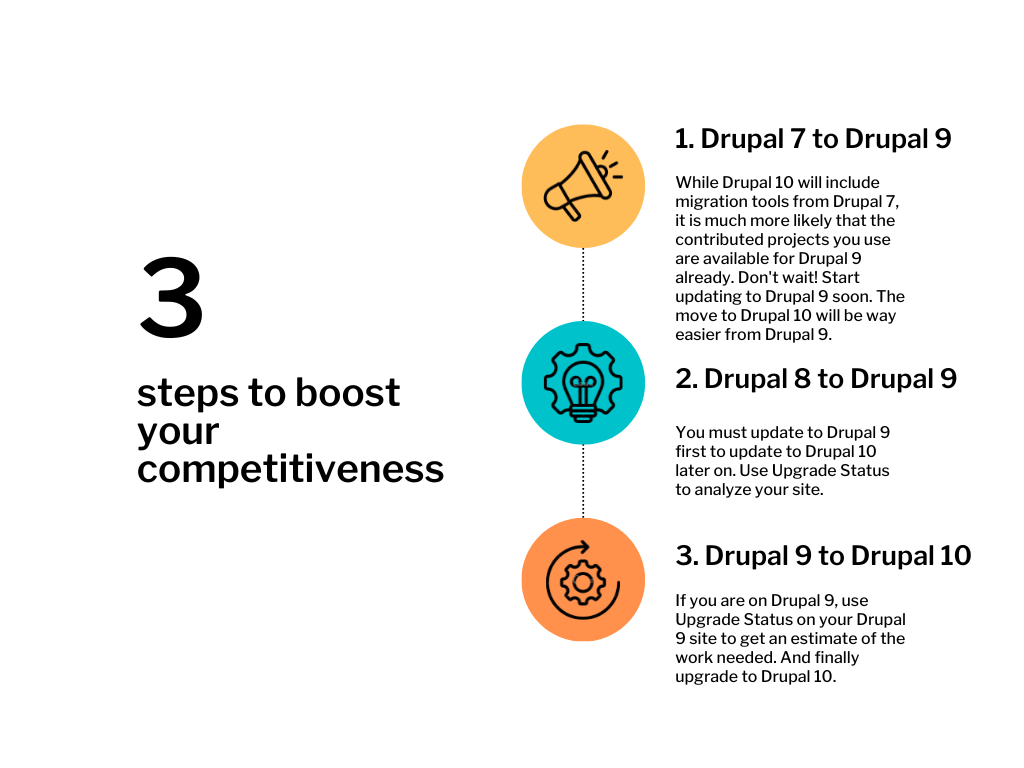 Drupal Site Audit Checklist
The on-site Drupal 10 audit components can include the following checklist, such as mobile usability, speed, accessibility, and hosting infrastructure, among others (Fig. 3).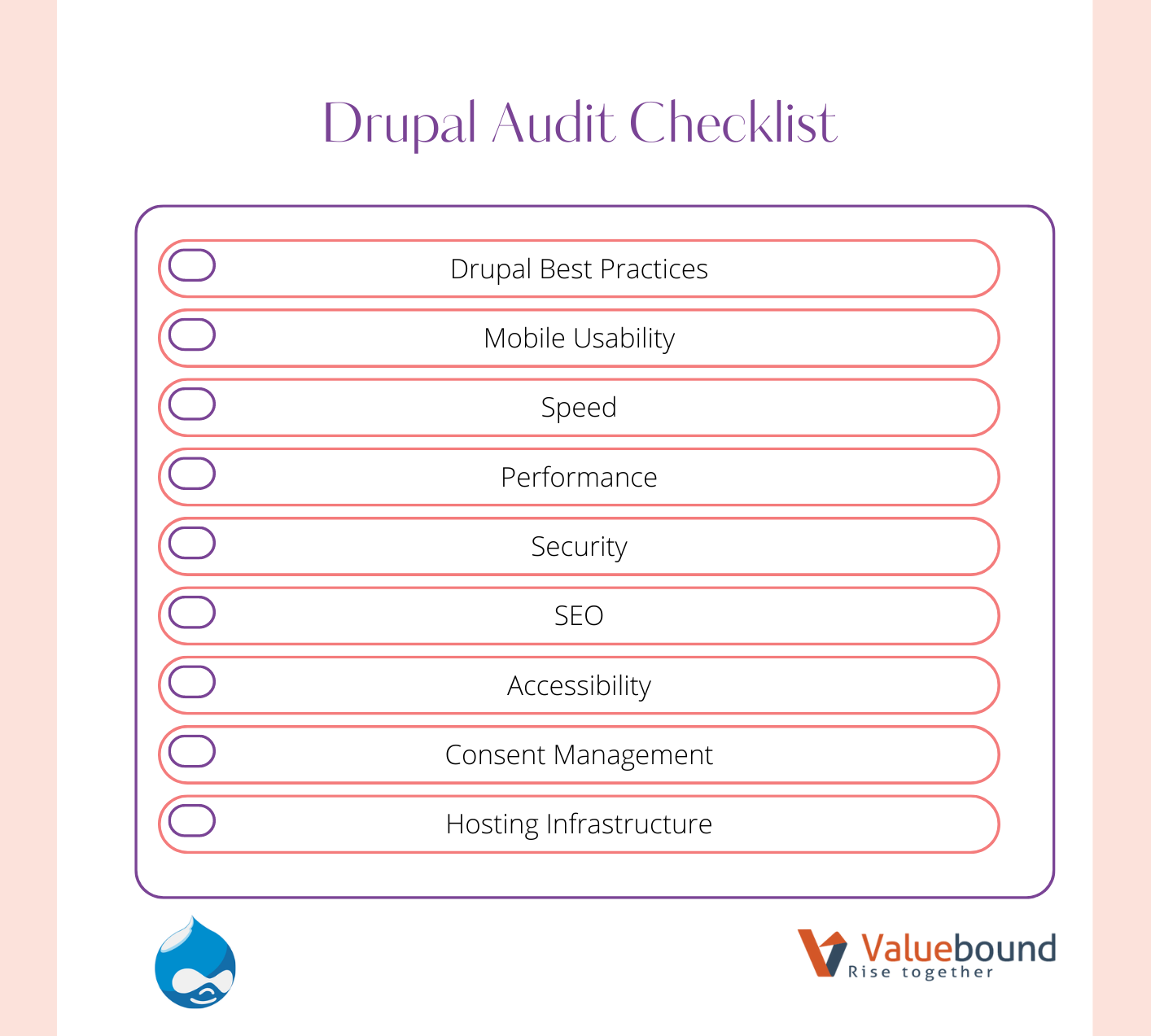 Apart from these, there are domain checks which become as critical as on-page site audit. These include:
Site Map
SSL Certificate
WWW resolution
Robots.txt Indexing
Drupal Site Audit Report
Conducting a Drupal site audit can help you upgrade to Drupal 10, or maintain the site for performance, SEO, and security. We hope the checklist assisted you to understand what needs to be done to upgrade to D10 and maintain the basic hygiene of your website.
Would you wish to need assistance from experts in performing a thorough Drupal site audit to check eligibility for Drupal 10, send us a message and we'll connect with you shortly.