Valuebound's takeaway from DrupalConAsia 2016
DrupalCon Asia 2016 is finally over and I doubt all the Drupalers who attended have recovered from the hangover of the event. On the closing ceremony we got a great figure, it was the first DrupalCon for nearly 80% of the total 1025 attenedees, which is astonishing. Even for us, the team from Valuebound, it was the first DrupaCon. So in this blog I am jotting down our own experience and how much fun we had.
Valuebound team kickstarted volunteering from Day 0. How? We just went to see the venue where the DrupalCon Asia will be hosted right after landing in Mumbai, and reaching there we saw bunch of people working for the next day. There we met Rachel Friesen, event manager of Drupal Association, working with a bunch of volunteers. The next moment whole Valuebound team started working with her filling up badges for the attendees. Why? No reason. We just couldn't resist ourselves seeing the enthusiam of other volunteers.
I seriously cannot thank the crew of volunteers from @valuebound who showed up late this afternoon to pitch in for @DrupalConAsia !!!

— Rachel Friesen (@RachFrieee) February 17, 2016
The excitement was so much that we were all ready & geared up, reached the venue by 7:30 AM. Yeah you heard it right. 7:30 in the morning. We wanted to volunteer, we wanted to be a part of the DrupalCon Asia 2016, we wanted to contribute in any way possible. Rachel briefed us about our tasks in the help desk and we took our respective positions.
It's @DrupalConAsia! Here we are reporting live! #DrupalCon #drupalconasia pic.twitter.com/Z9Gpndq272

— Blisstering (@Blisstering) February 18, 2016
At around 8:30 people started turning up for the registration. But by 9 there were an array of attendees showing up for registration and in no time empty floor was filled up by a huge clan of Drupalers from different parts of the globe. It was great to see such a colossal crowd assembled together with one thing in mind, Drupal. 
If it's a selfie with @Dries is it a Driesie? #drupalcon pic.twitter.com/E8OgHLEdiR

— Rachel Friesen (@RachFrieee) February 19, 2016
But this section can't get over without mentioning someone special. You guessed it right. When Dries Buytaert showed up to take his badge, he was sorrounded for a selfie by all the Drupaler for whom he was a superhero. With that a new term was coined by Rachel "Driesie", a selfie with Dries.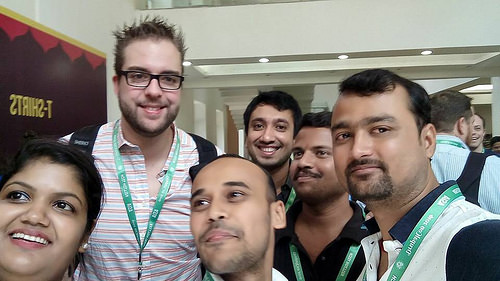 On the eventful Driesnote the whole auditorium was packed with all the attendees. Prior to the Driesnote there was a special Bollywood style prenote by Jeffrey A. (jam) McGuire, Adam Juran and Campbell Vertesi which was concluded by nearly all of the audience converting the stage to dance floor. Prenote was real fun. We are going to remember this for long time.
Most people ever dancing at the closing number of the #DrupalCon prenote! Well done! pic.twitter.com/hZVYOSP6rG

— Gábor Hojtsy (@gaborhojtsy) February 19, 2016
 

The Driesnote was a proud moment for whole community but there was something special for Valuebound. We were in his slide. As the number one contributor to the Drupal 8 project from India.

 
@Dries keynote @Valuebound top contributors to #Drupal. Kudos to @RAKESH_JAMES @Karthik @KrishnaKanth pic.twitter.com/5uwPp9zcM1

— Valuebound (@valuebound) February 19, 2016
Following the keynote by Dries, there were the series of session on various topics raging from Backend development to Drupal Community for absolute beginners to experience Drupal ninza. Though it was not possible to attend all of them but we made sure that we make most out of it.
The session on PHP Fig by Jam and Campbell Vertesi was the first one that we attened. Don't worry I am not writing about all the sessions that we attened. This was exclusive for us because of the chat we had with them after their session. They were really impressed by us and our approach of how we have adopted and contributed to Drupal 8. Instead of we asking them about their experience they were more interested in knowing about what we feel about Drupal and how managed to cope with Drupal 8. That was one of the memorable moment for us.
With @HornCologne @campbellvertesi at @DrupalConAsia pic.twitter.com/vxF5cbXziT

— Malabya (@malavya88) February 19, 2016
Rest of the day we were attending other sessions, voluteering/monitoring of the sessions, wandering around the booths by all the sponsors who were giving a lot of goodies for the attendees and connecting with the hot shots of the Drupal world.
One of the most intriguing element of such large scale meetups is that we get to connect to so many folks of the community which really makes you feel blessed to be a part of such a huge family. Some met their mentors with whom they were only acquainted via IRC or the virtual world, some met their colleagues from previous organisations, some got to meet their idols who they follow. DrupalCon really opens up the Drupal cosmos which I believe is a real impact for everyone's Drupal journey.
For Valuebound it was a great experience and we realised that we have a great visibility in the Drupal community which which made our determination stronger to take this to the next level, as a Contributor and as an organisation
I know it has been a long blog post but come on, it was DrupalCon Asia. In fact it is just the tip of the iceberg. But a picture is worth a thousans words. Here is an album of the pictures we clicked on our tour to Mumbai and DrupalCon Asia.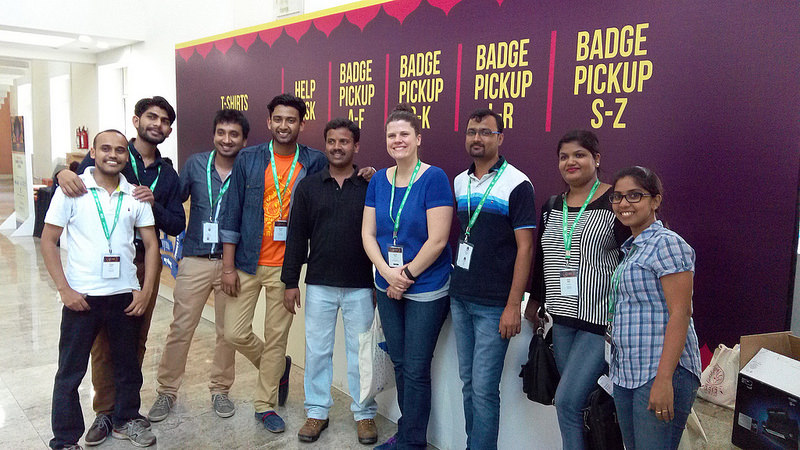 In the conclusion we would like to thank Megan Sanicki, Rachel Friesen, Amanda Gonser & many other volunteers and of course Drupal Association for organising DrupalCon Asia which was a dream for whole Indian Drupal Community. Hope to attend more DrupalCons in the coming years.