Cloud Computing Solution Providers -A comparison
According to the 2016 RightScale State of the Cloud Report it is found that AWS, Google Cloud Platform, Microsoft Azure, and IBM SoftLayer are among the top public cloud providers.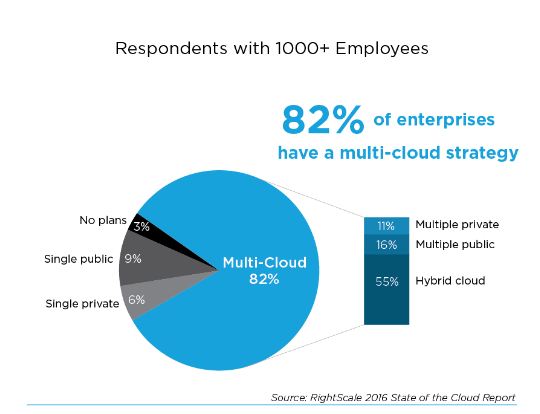 Projections from leading technology research company, Gartner, states that the public cloud market is expected to grow more than 17% by the end of 2016 to over $208 billion.
We have been writing a series of articles, one among which states the various cloud service layers. Among the three the ones that are most popular cloud services are Infrastructure-as-a-Service (IaaS), this offers virtual computing resources via the internet, and Software-as-a-Service (SaaS), this presents a platform to make, run, and manage applications.
Going for one Service over another will depend upon what the customer specifically needs and what supporting infrastructure or staff they have or why they need the service at all. It is quite common that large organizations have different vendors or service providers of the same field who have designated separate tasks to them.
The hotshots of the Publishing industry seems to have sided with AWS, Guardian for one says "Two or three years ago, before we were ready to move to AWS, we had to refresh the hardware in our data centres," said Graham Tackley, director of architecture at The Guardian, speaking at the AWS Summit in London today. "We decided to build our own private cloud based on OpenStack. I would say it was a complete and total disaster. We invested a huge amount of effort."
Writing for The Guardian's website in 2013, senior systems integrator, Stephen Gran, said OpenStack was chosen for the "best mix of features and developer mindshare". "It has an EC2 API that is complete enough for our use cases, and offers an awful lot of flexibility in the native API and in deployment strategies," he said.
How will you choose a service provider for Cloud Services?
There are a few things to consider, we have taken the most popular three of the market.
Evaluation Criteria
Baseline Criteria and Computation
AWS offers 40 max CPUs, Ma memory upto 24 GB, credit for 1+ minute downtime, 30% max credits, and uptime SLA 99.95%. Google offers 32 CPUS and memory upto 208 GB, Credits for 5+ consecutive minutes downtime, monthly credits up to 50% and 99.95% uptime SLA. Azure provides 32 CPUs and 448 GB memory, credits for 1+ minute downtime, monthly credits up to 25% and 99.95% uptime SLA same for all three.
Azure offers archive storage, block storage, file storage, objecti storage and physical data transport which is offered by Azure as well. Google offers archive storage, block storage, file storage, object storage
AWS offers AD as a service, Certificate Management, Dedicated HSM, IAM, Key Storage and Management, Security Assessment, Web Firewall. Google offers IAM and Azure for AD as a service, IAM,  Key Storage and Management and Security Assessment
Service Offerings and Network
AWS's core computational services include autoscaling which Azure offers as well, additionally AWS offers Dedicated Hosts(virtual), Temporary VMs while Google Cloud Platform offers Autoscaling, Customizable VMs and Temporary VMs
Data Analytics and Applications
AWS and Azure offers data and analytics services like Batch data pipelines, Machine learning, search and stream processing, while Google Cloud platform provides Batch data pipelines, Machine Learning and Stream Processing.
The pricing totally depends upon use case scenarios. These are the areas where the decision has to be made. Whatever seems promising.
We have tried to paint a picture with the comparison metrics as we have spoken above, the competition is strong and with a focus on better service and ways to attract customers, pricing is getting down and becoming affordable. There are also a lot of other providers in market.
With this we end the series of Cloud Computing for Publishers.
Further reads : Rightscale
http://cloudacademy.com/blog/public-cloud-war-aws-vs-azure-vs-google/