31% of the CEOs of large companies believe that the top challenge to accelerating digital transformation was difficulty making quick technology-related decisions, says a report from KPMG. Other challenges that hinder the pace of digital transformation in the finance sector are- security, rapid burst of innovative technologies, implementation of technology, and matching customer expectations.
While 92% of finance leaders across 89 corporates have started their journey to introduce digital interventions in the finance function, only 11% believe they are at an advanced stage according to EY Report 'Digital disruption in finance". In this blog, we aim to assist decision-makers in navigating their route to their company's digital transformation by speaking about key technologies, and enterprise-ready digital solutions.
Digital Transformation in finance has now become an essential part of goal setting across financial services companies, thanks to readily available business data, and the ability of teams to process such huge data. Algorithms and analytics, better connectivity tools, improved platforms, cloud computing, and sensors have made accessibility to data easier. The finance teams must work on continuous redesigning of processes to ensure digital transformation, versus the repetitive traditional processes, which tend to slow down the pace of execution.
Some of the clear benefits of digital transformation include- automated and accelerated processes, tangible financial gains, reduced errors, and improved efficiencies. Jennifer LaClair, the CFO of Ally Financial, an industry leader in digital excellence, suggests, "The CFO function plays a critical role in driving Ally's digital transformation. We partner closely with IT, strategy, and business leaders to assess business opportunities and ensure the most effective allocation of investment dollars and capital."
Deloitte suggests critical technological predictions for finance in the times ahead. These suggestions are based on what finance leaders are presently doing, and what technologies are available, or would dominate in those areas (Fig. 1). Blockchain, Automation, and Robotic Process Automation (RPA) are some of the key technologies discussed below.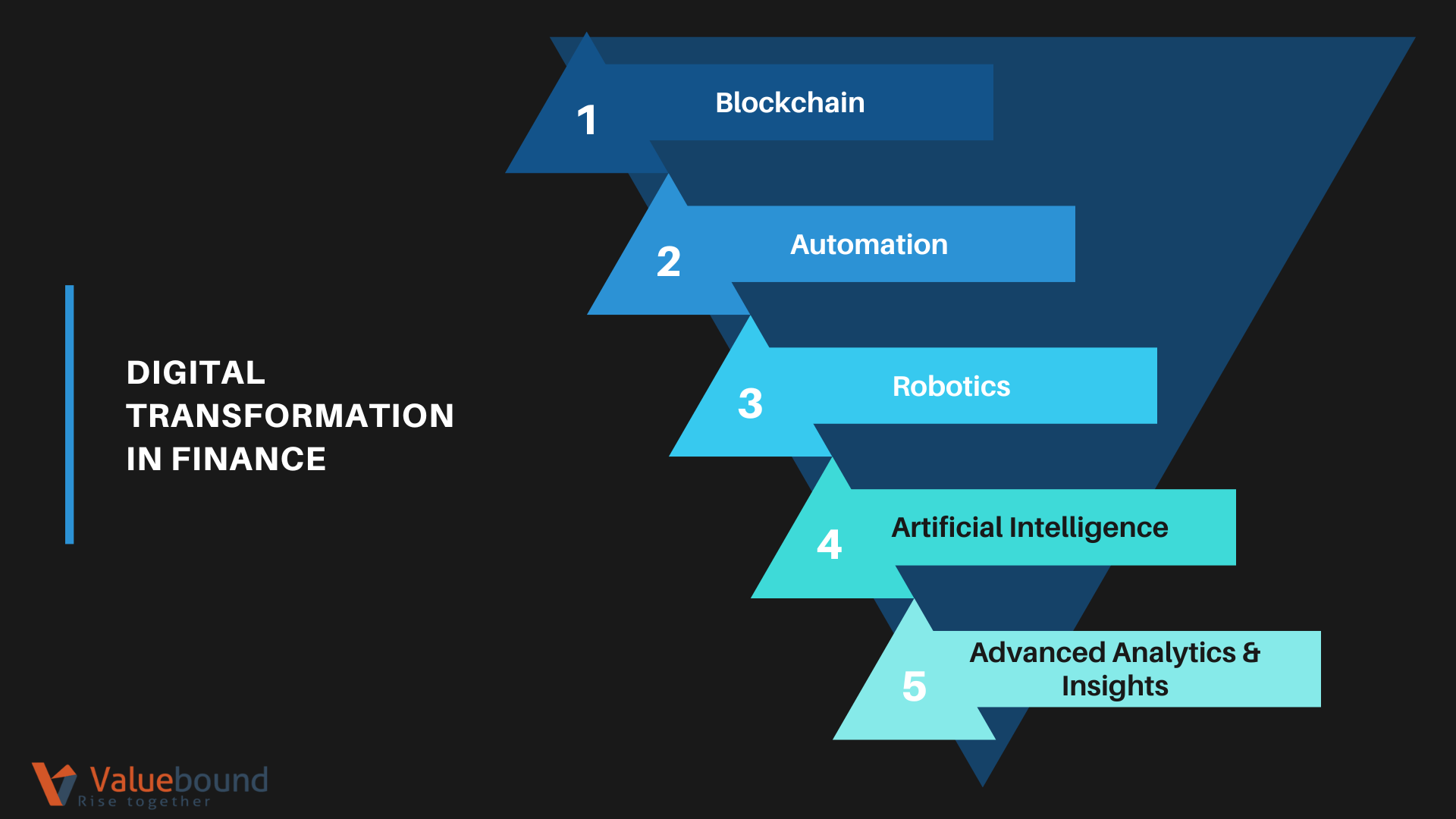 Blockchain
Digital transformation fintech solutions include blockchain, which makes use of distributed ledgers in making data and transactions secure. Blockchain helps with reduced costs of database maintenance, faster operations, and real-time contracts. Finance and accounting processes can be largely transformed using blockchain technology. Key functions like accounts payable, trade finance, and general accounting are excellent candidates for the adoption of blockchain technology.
Automation
40% of the financial activities like general accounting, operations, revenue management, and cash disbursement, can be fully automated, suggests a McKinsey Global Institute research. 17% of such activities have the potential of being mostly automated. These figures suggest that CFOs and other financial companies' leaders can simplify core transactions through automation.
Robotic Process Automation
Robotic Process Automation (RPA) is a kind of automation software that helps in scheduling the timely performance of redundant tasks like data entry. Companies applying RPA at scale have adopted the technology by redefining their internal processes and altering operations. RPA helps in reducing the human error rate, thus increasing compliance. Also, it helps with reduced operational costs.
For instance, Zurich Insurance experienced a 50% cost reduction in the pension and insurance division in the UK, and thus implemented the technology in other divisions in fewer than 2 months. RPA solutions helped Bancolombia, Columbia's largest bank, in enabling their clients with better management of their investment portfolio. As a result, it is felicitated with the award for Digital Transformation in the largest company in Columbia.
Artificial Intelligence
AI can be used to identify patterns and enable predictive analysis, thus helping with outliers identification. Among many use-cases, this can help eliminate fraudulent practices or at-risk parties automatically. You can use such digital tools for picking out patterns to mark non-payers or avoid such kinds of transactions, thus eliminating disagreeable entrants, which can dilute the customer base of a company. AI also carries out most of the operating activities with almost negligible human intervention. AI-enabled decision-making can help financial companies with gaps identification, making forecasts, and measuring expenses- leading to optimized business processes.
For example, Ant Financial crossed the 1 billion mark in the number of customers in just 5 years of its launch. Spun out of Alibaba, Ant Financial Services Group makes use of data and artificial intelligence and serves over 10x more customers than any of the largest banks in the U.S. The number of employees here is just 1/10th. Built on the digital core, the company today competes with the top financial companies of the U.S., like JP Morgan.
Advanced Analytics & Insights
Mining business data through automation techniques, statistical methods, predictive modeling, and machine learning has become essential for strategic decision-making. Financial leaders must work in tandem with strategic and IT teams and assess business through their leaders to identify broader ways in which AA and data insights can uncover business value. Advanced Analytics and data mining through insights have multiple use cases like risk management, managing talent, preventing fraud, optimizing prices, and exploring various other applications. It can be covered across various areas such as data visualization, graph analysis, data processing, and mapping customers' behavior.
The time to act is now!
"The most important thing is to make the technology inclusive - make the world change. Next, pay attention to those people who are 30 years old, because those are the internet generation. They will change the world; they are the builders of the world," says Jack Ma, Founder & Chairman of Alibaba Group. Therefore, financial services companies should work closely with engineering solutions partners and strategic decision-makers to initiate digitization in financial companies.
A financial service company can set clear expectations, and ensure strong talent leadership to drive growth through technology. If you have a clear agenda and need to discuss the digital transformation of your financial company across pain points, get in touch with Valuebound, an enterprise digital experience company in India.