87% of the healthcare providers or HCPs are looking for either completely virtual or hybrid meetings with the pharmaceutical reps even after the pandemic, states a 2020 Accenture research. 67% of the HCPs think that pharmaceutical companies have a scope of improving communication, which could help physicians with better prescriptions to their patients, suggests Chief Marketing Officer at Sermo, a world leader offering actionable insights for the healthcare community. Digital transformation through an omnichannel commercial model is at the forefront of several pharma companies, yet these digital dreams remain deferred.
Harvard Business Review in its report 'Why So Many High Profile Digital Transformations fail?,' highlights "We think there's something more here than executive over-exuberance of slowing markets. This kind of unfortunate decision has happened over and over again, in wave after wave of transformative business technology."
Key lessons which emerge from heavy commitments and investments in raising digital capabilities include product desirability and the economy of a country. Our previous blog spoke extensively about the 5 challenges of pharma companies in adopting analytics-enabled omnichannel commercial models. This blog will cover a 5-step journey called REACT, to omnichannel commercial transformation for pharma companies.
REACT: Strategic Journey to Omnichannel Commercial Transformation
With a clear definition of business objectives, a pharmaceutical company can align its strategic vision to the solutions that it aims to pursue. To convert traditional models into omnichannel digital commercial models with the agile approach, we suggest this 5-step transformative journey REACT(Fig.1):
Reach out HCPs by setting your business objectives and strategic vision
Enhance the patient experience by offering treatment options specific to the population, instead of one-size-fits-all
Act towards data-driven health care and dynamic delivery; & Adopt by leveraging robust analytics and data capability, and shifting towards innovative modalities
Covert potential customers by building trust in the brand, and finally engage them for retention, and
Test with the created MVP on selected population, region, and product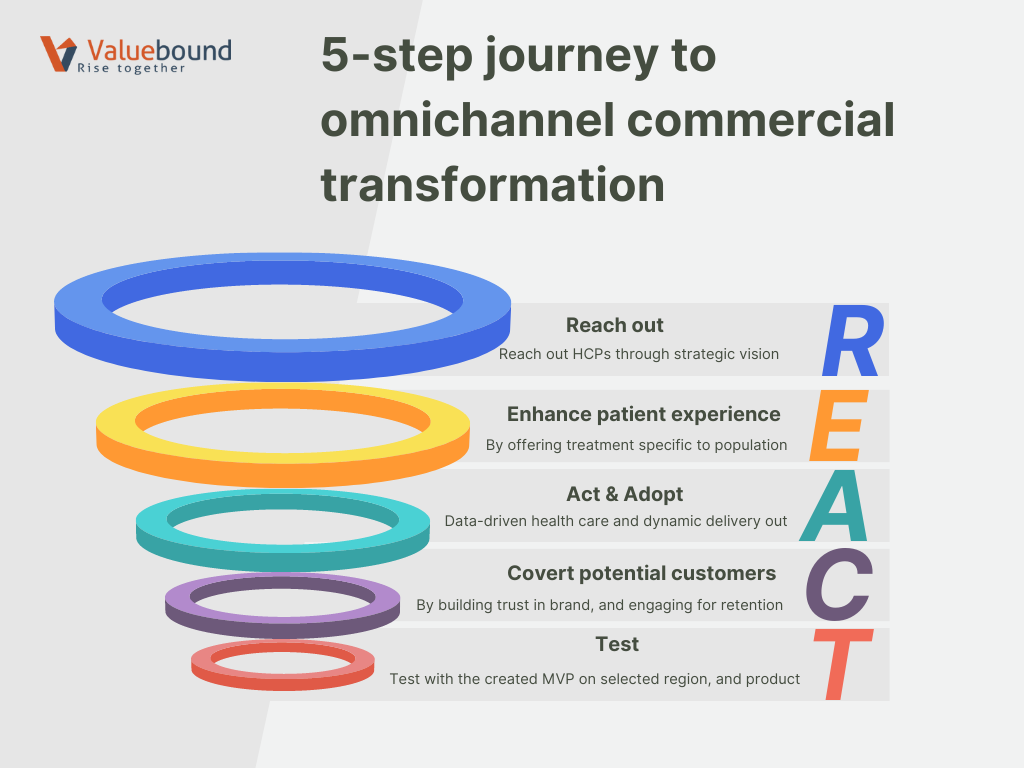 Step 1: Reach Out HCPs
A company should map out its specific growth plans, like reaching out to more HCPs, maximizing awareness around new product adoption, and developing new indicators. Priorities and use cases will also define the scope of advanced analytics, including modeling approach, types of data requirements, end-users, user interface design, talent requirement, and features involved. This step will therefore standardize the actions of your sales reps, and improve and optimize the content through personalization, messaging, and channel deployment.
Step 2: Enhance patient experience
Customer experience and personalized care have become the keywords of the pharma industry as customers continue to dictate their choices and preferences. Pharma companies must therefore consider the technology platforms which can interface with their stakeholders and are critical in improving enhanced engagement. Sameer Lal, SVP at Indegene, a leading pharmaceutical company, says, "We aim to bring together leaders from the industry to evaluate practical applications of modern technology for increasing the efficiency of the organization, enhancing communication, and improving compliance."
Pharma companies must consider building capabilities across digital engagement. Since there is a transition from a one-size-fits-all approach toward a specific population, region, and demographics-based treatments, therefore the pharmaceutical companies must work by building blocks that can lead to improved outcomes. Investing in digitally-connected and hyper‑personalized services can help by reducing costs and driving adherence.
Step 3: Act & Adopt
The emergence of new models and improved care are the key drivers for enhanced processes, systems, and models pushed through new requirements and data explosion. Advanced analytics and robust data can help in omnichannel interconnectivity which drives more targeted marketing strategies and leads to enhanced agility and mobility. Pharmaceutical companies that can leverage advanced analytics and data capabilities gain an advantage through dynamic forecasting, sales force performance analytics, advanced segmentation, predictive pricing modeling, and contracting analytics. The shift towards new and innovative modalities can transform core business processes in contemporary commercial models. All this, in turn, frees up a company's resources and allows it to focus on improving quality, strategizing, aligning, and decreasing the costs of managing such initiatives.
Step 4: Convert potential customers
For any pharma company that aims at becoming a market leader in inorganic growth and therapeutic area, it is essential to focus on product desirability. For the ad hoc or targeted support, a pharmaceutical company must focus on bolstering its portfolio, while also looking at capabilities to build partnerships and purchases to increase its competitive ability.
The average organic customer acquisition cost (CAC) in the pharmaceutical industry is $196. Companies derive CAC by Total Cost of Sales and Marketing by Total New Customers. For converting potential customers, the companies need to focus on building trust which can happen by offering value-based care, and affordability. Continuous innovation, improved data systems, and standardized data sharing models for accessing adherence data can help in delivering value. The companies must therefore focus on outcome-based and risk-adjusted models to offer value, outcomes, and affordability, and convert potential customers.
Step 5: Test with the created MVP
A pharma company can build momentum by testing out a value-adding MVP or Minimum Viable Product. The company can also focus on single indications in the pilot country or even smaller geographical regions within a country. This will help the company in offering tangible showcases for personalized approaches to engage HCPs. The choice of indication or a product should have a balanced approach between its ease of implementation and impact (value to the customer).
For developing MVP, for example, McKinsey suggests that a pharma company can create a product or indication with a large sales force, strong competition with more growing space, a high-value proposition, the flexibility of content customization, and more customer data. Rich data availability can create impactful analytics. However, the country or region that a pharma company selects must be important and should have strong data availability and willingness to change.
Conclusion
Targeted investments for analytics-powered omnichannel commercial transformation models for pharma companies can lead to improved outcomes. So how do you equip your field force for reaching out to the right customers? How Do you empower your business with the right tech capabilities? How can you leverage analytics and data for deploying impactful strategies like REACT? If you're looking for the right answers to these questions, reach out to us to learn how we have digitally enabled our pharma clients in empowering their end-users.