Consistent evolution in the digital world has led to technological change in the education and assessment industry as well. The global EdTech investments reached USD 18.66 billion in 2019. Vendors experienced a further rising demand for digital education solutions after the onset of COVID, in 2020.
Research Gate surveyed students' attitudes toward online exams across four faculties- Management and Economics, Interdisciplinary Studies, Humanities, and Technical Sciences. The proportion of "Very Positive" responses from Interdisciplinary Studies, and Technical Sciences was on the higher side, as depicted in Fig. 1.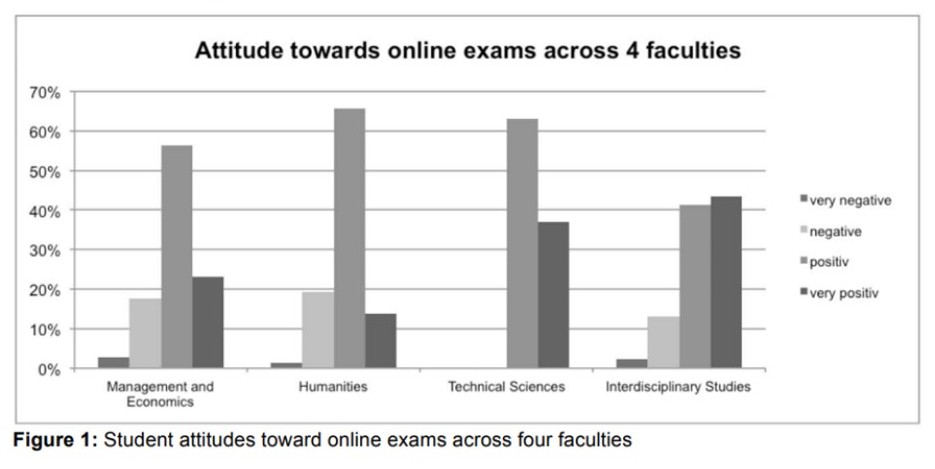 In 2019, 37.4 million students had enrolled for higher education. The online education market in India is expected to grow by 14.33 billion dollars in the next 4 years. The seriousness of adopting online examination in India can be understood from the fact that almost all the competitive exams adopted the online CBT examination system. But what makes online examinations so popular now? In this article, we discuss the future of the online examination system with a focus on functionalities, advantages, and barriers.
Functionalities of online examination methodology
By understanding the basic functionalities, we can move towards the advantages and limitations of the online examination system.
Before conducting the examination, an exam paper needs to be created. Examination software, apps, and platforms are equipped with a range of features, such as question bank management, test engines, and more. Such features enable hosting different kinds of exams with multiple sets of papers, and level of difficulty.
Conducting an examination could be a tedious task, since it requires filling students' data, such as registration, exam proctoring, seating arrangement, and examination venue. Online registration portals and online proctoring can help in conducting examinations hassle-free.
Online systems can assess and generate candidates' reports and results automatically. The majority of examination evaluation tools come with AI features that prevent errors. On evaluation, detailed reports are generated, which consist of topic-wise, subject-wise, test-wise, and question-wise analysis of exam papers.
Advantages of online examination system
Reduced burden of administration
The need to print and circulate question papers, organize logistics to transport these question papers, and have invigilators at the examination center makes the entire process costly and burdensome. But, the completely automatic nature of online examinations makes them useful and highly accurate. This eliminates the hassle of the pen-and-paper mechanism.
Eases examination-related requirements
Conducting examinations through digital means makes it simpler for the conducting body to manage the tasks associated with organizing. In conventional examination methods, handling question papers and answer sheets becomes a tedious and expensive job since a lot of manpower may be needed. However, with the online examination system, question papers are created easily using automated tools. This eases the job of those who create the paper once an assessment organization approves the question bank. Results are also generated quickly and communicated in detail to the examination-takers.
Unlike traditional examination mechanisms, students need not travel to the examination center using digital methods because online examinations break the barriers of geographical boundaries. Remote proctoring is another benefit of online examination because online exams can be easily conducted with transparency, and fear of unfair practices.
From the students' perspective, some of the other benefits of the online examination system according to the Research Gate survey include faster results, time-saving, improved structure, readability, and correction possibilities, interesting, better, and convenient ideas, environment-friendly, and being up-to-date. The same is indicated in Fig.2.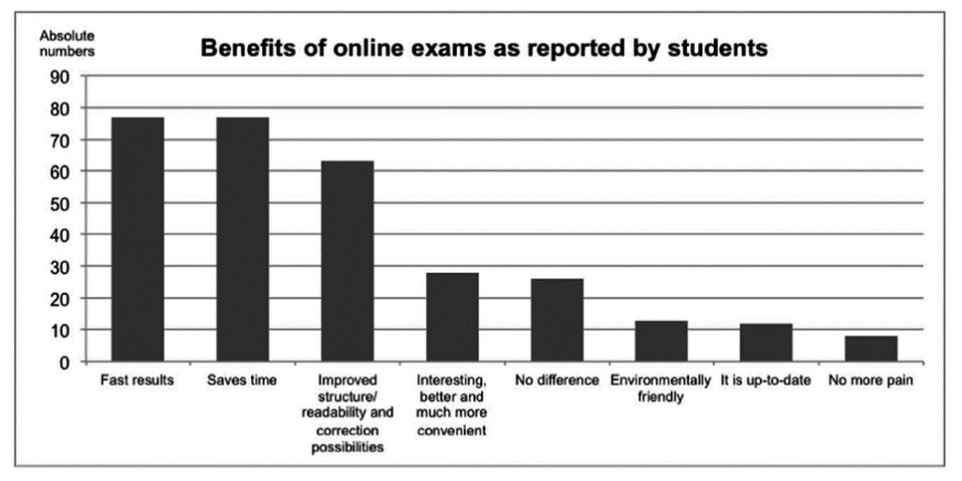 Barriers of online examination system
Connectivity forms the major challenge of conducting online examinations. Network issues can delay or postpone examinations. This can affect a student's mind negatively.
In a system of online examination, data is either shared online, or in cloud storage. However, a digital ecosystem brings the threat of hacking and data breaches. Security threats are especially worrisome for the examination system because it involves leaking question papers, which can sabotage the sanctity of the mechanism. Online examinations are excellent for multiple-choice question patterns. But they still need to be developed for descriptive or broad question-types.
Accessibility in remote geographical regions
Reaching out in rural geographical locations is still a daunting task, especially where the students are economically downtrodden. Lack of accessibility of computers and networks in such regions poses a major barrier to implementing online examinations completely.
Some of the other barriers of the online examination system, as reported by students in the Research Gate survey include more time requirements, lack of structure, problems with question types, longer preparation time, and trouble with typing. Some of the students also feel that online examinations involve more costs than benefits. Fig. 3 below depicts the same-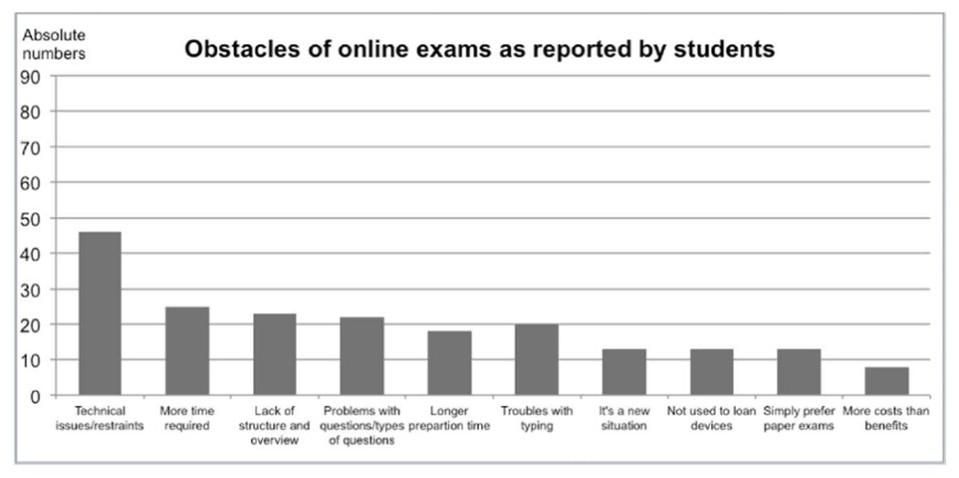 Conclusion
There are various ways for management to gauge the viability of the online examination system. There are instructive establishments that use technology to approach the online examination system through enlisting, evaluation, expense installment, or simply observing and smoothing the process. Online audit, use of webcam, amplifiers, and controller as a means of sorting technique can help in playing out reviews.
When implemented properly, these solutions can help in providing a range of improvements in contrast to conventional methods, because of their automated mechanisms and robust processing. In the upcoming days, innovation in technology and ed-tech companies will ensure much more development for a smooth operative experience in the online examination system.