According to the McKinsey survey, technology investments are proving their worth, especially at companies making more tech-based changes and bridging more of the technology-business divide. This impact is visible across four main organizational benefits, which include:
a) realization of new revenue streams, 
b) increased revenue from existing streams, 
c) reduced costs, 
d) improved employee experience
Out of these factors, people-focused plays (Fig. 1) bring in the maximum value of technology investments.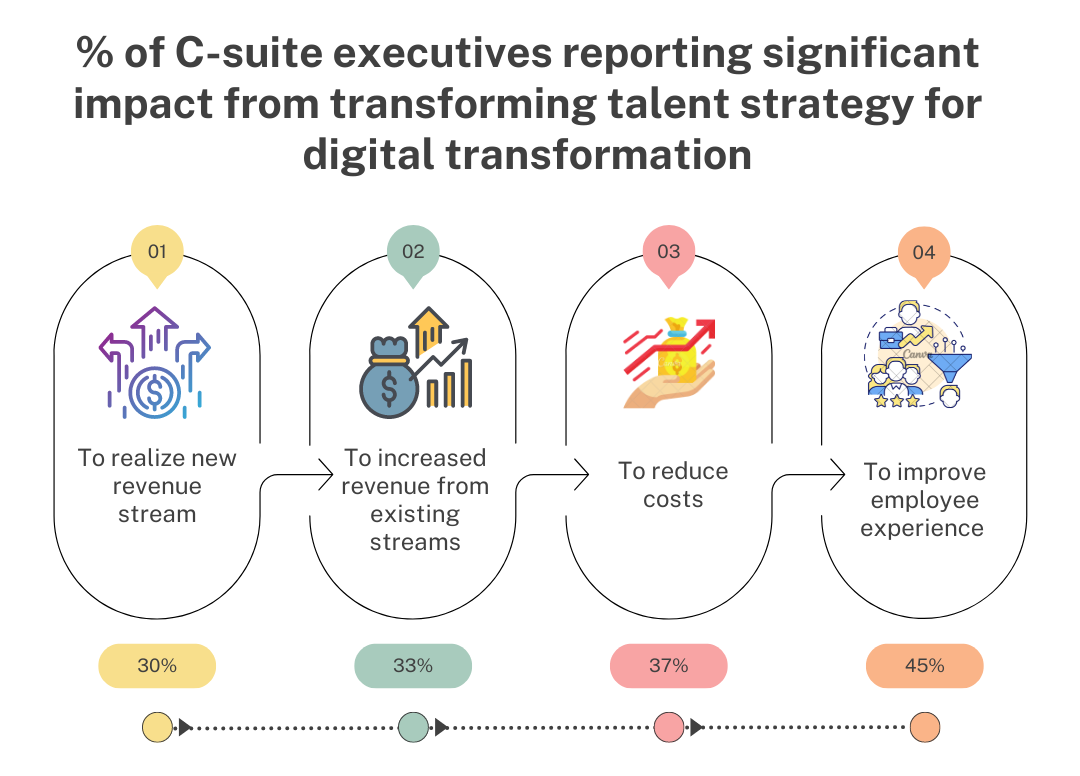 McKinsey survey also suggests that most companies across industries associate people-focused initiatives with value creation. In fact, 37% of companies are now focused on digitizing their end-user experience. So, the holy grail for most companies now is their talent strategy.
This blog explains how the pharma and healthcare industry can leverage digital transformation by delivering a total experience.
But what is a total experience? It's a simple formula-
Total Experience (TX) = marketing content and strategy + UX Design + customer and employee experience (CX/ EX)
Our blog is for pharma chief digital officers (CDO), chief information officers, and other C-suite executives in the digital space that are trying to scale their organizations toward TX through digital overhauling.
The Greatest Barrier to Digitization in the Pharma and Healthcare Industry
The greatest barrier to the pharma and healthcare industry in going digital is the way organizations are structured. "There's certainly a degree of risk aversion in trying new things through the implementation of digital solutions, whether it's clinical trials or a commercial launch or a discovery project," says Francesca Wuttke, the Chief Digital Officer at Almirall, a Spanish pharmaceutical company. Although the collaboration between biotechs, startups, and pharma is improving, the healthcare industry is still late to the party of digitization (Fig. 2)

The industry is often bruised by regulatory restrictions, which affects its mindset. Yet another barrier in scaling data and going digital is a lack of leadership drive or skill. While scaling databases and technology is at the core of most companies, they often forget to speak about change management.
"One of the biggest barriers is that you're constantly being asked to prove the value of what digital has brought to the table. That could relate to really small, incremental-value projects all the way through to complete business model shifts," opined Jeff French, Vice President & Chief Digital Officer, ViiV Healthcare.
There is also a vast difference in adopting digital analytics by domain or function. Leadership is a key factor to consider here. For example, in Biohaven Pharmaceuticals, a clinical stage biopharmaceutical company, the Marketing and Sales domain is well aware of the value and capabilities of digital transformation, but other functions are still developing their awareness. The Chief Technology Officer of the company, John McGill, says that what is needed is "pulling that all together into a more homogeneous, company-wide transformation ultimately to drive greater value."
So this makes two things clear: a) change in culture and b) change in mindset are two factors that can drive digital transformation in the pharma and healthcare industry.
Talent Strategy: The Holy Grail of TX
Biopharma executives in the digital transformation panel discussion explained the capability and talent required for digital transformation in the pharma and healthcare industry.
In 2019, only 3% of the clinical trials out of 32,000 were digital or hybrid. Cognizant is projecting that over the next four years, that will increase to 25%—an increase of more than 800%. But it is essential to disseminate this message from top to bottom across business units in an organization. In the past 2 years, the discussion over digital transformation of pharma and healthcare industry has elevated to reach the boardrooms.
"It's going to be a continuous transformation in pharma," says Sanjay Parikh, Executive Vice President, Indegene. He further adds that the right kinds of change catalysts need to be added within an organization. The right shift hence comes from a complete shift in the business model.
Moving Data Across Different Business Units for Faster Digitization
It is essential for a pharma and healthcare company to share and leverage data within the organization. Opening, federating, and governance of data is at the crux of digital transformation so that the leadership can then align it and get the right people to handle opportunities when they appear.
How a pharma company can regulate and democratize data internally and create a single source of truth is the right question to be asked.
"The burning platform for pharma is moving faster, and being able to provide meaningful insights from that data and use it to fuel clinical trials and better commercial decision-making," explains Patrick Roche, Chief Digital & Information Officer at Mallinckrodt Pharmaceuticals. He also explained that COVID was a catalyst of change in the pharma company because it not just fuelled collaboration but also helped break silos and increase the speed of retail delivery.
To go fast, a pharma and healthcare organization must have people or talent that know how to go fast. With a data management system, a pharma company can maintain a crisp vision toward its commercial strategy. It is from the top that the acceptance of data-driven decisions needs to be driven.
Import IT Talent from Outside the Industry
While the pharma and healthcare industry is used to seeing very long development timelines for products, when the word "digital" comes in there is also a natural expectation of faster time-to-market.
Creating a more collaborative network consisting of IT-savvy professionals with the right tools and technologies that help the pharma and healthcare industry can hence be an immediate way to digitization. So while the core business units can be focused on business imperatives, IT teams from outside the industry can stay tuned to strategy and deployment. Biohaven, the clinical-stage biopharmaceutical company, has worked on a collaborative model like this.
Industry experts believe the same. "In my experience, they can bring in new thoughts in terms of tools and technologies that we hadn't even thought about using in pharma from a speed and capability standpoint, " says Pickett, Jr., Chief Information & Digital Officer, Syneo Health.
Conclusion
Having digital transformation in the pharma and healthcare industry is more about solving the problems of business with processes, data governance, and technology. People with the right capabilities can embed themselves into this and understand the business issues that pharma companies are trying to solve.
Having an IT team from outside the industry means that a pharma company can have a nucleus of talent that also has a business standpoint and speak the language that everyone understands.
At Valuebound, we believe that curiosity is among the most important companions of digital transformation in pharma. Novartis in the UK has been investing in learning capabilities and embedding such systems into organizations, using frameworks from IT and tech to make the processes faster. If you wish to apply a similar model to your culture, speak with us and open new prospects of digitizing your business units.