Better customer experience is increasingly taking importance in  marketing decisions. As per Salesforce.com study, 75% of marketers now undertake Customer Satisfaction (CSAT) surveys, which is up 22% from last year. User-centricity, visual shopping, empathy, automation, and trust were among top themes that dominated customer experience in 2021. In this article, we are going to understand the top themes of customer experience in 2022 and beyond. After sifting through various data points and reports, we've distilled five core themes ranging from societal shifts, use of emotion analytics to data security and privacy for better customer engagement strategy.
Strategic Planning for better customer engagement
Budgeting, using resources efficiently, and ensuring returns are top considerations of  customer engagement strategy.  Some 53% of the 250 CX practitioners believe that they feel pressured around providing returns for digital CX investments. The Vice President of Customer Transformation at Quadient, Scott Draeger said, "If you spend marketing funds to create an expectation, you better deliver to the standard you set."
Brands that have dedicated CX digital teams to create potent digital user journeys can produce consistent branding. However, major challenges arise around lack of rigid data infrastructure which can be used for full optimization of digital experiences.
Proper planning can result in a unified customer data view through a robust data infrastructure, which helps brands in making wiser decisions, and delivering quality customer experience. Integrated data ecosystems can lead to convenience and personalization in interaction felt by customers in DX space.
Understand Customer Journeys
The pandemic shed a light on societal shifts in customer experience. Now customers do not base their brand loyalty solely on product or price. CX teams cannot just rely on quantitative data for product delivery, or other decisions. Reliability, ease of communicating with a brand, features of product or services, packaging, and advertising- all these factors encompass customer experience. In the complex digital experience hierarchy, modern marketers must adopt a smart approach to map customer journeys.
Qualitative research at each stage of customer journey and innovation with the way the voice of the customer is heard is now seen as a primary battleground for higher competitiveness among brands. That is why the brands need to lay higher emphasis on customer journey analytics. To put this in context, by 2026 the market size of global customer journey analytics is expected to grow at Compound Annual Growth Rate (CAGR) of 20.3%. This will increase from 8.3 billion in 2020 to USD 25.1 billion by 2026, which explains the importance of tracking customer journeys for an excellent CX.
Emotion analytics
Emotion analytics use customer insights from different channels and customer touchpoints like social media platforms, emails, chats, texts, and calls.  There shall be a significant rise in real-time emotion analytics. In the next two years, market size for global emotion analytics shall grow to USD 4.6 billion at Compound Annual Growth Rate (CAGR) of 15.8%. Services and software catering to emotion analytics, such as speech, facial, text, and video analytics will continue to remain key tools that drive CX in 2022 and beyond.
Countries like Canada and the US are investing heavily in research and development of innovative technologies in emotion analytics. These countries continue to remain early technological adopters in different verticals like banking, retail, financial services, and manufacturing.
Figure 1 below shows that the North American region will hold the largest emotion analytics market by 2024.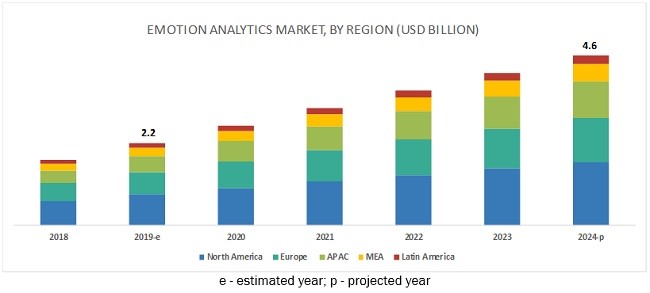 As we reflect back on CX in 2021, there will be more emphasis on how well the communication specialists imbue technology with human emotions. Making interactive technology more accessible and usable, and celebrating the innovations in advertising in these segments shall be the dominating themes of CX in 2022 and beyond.
Consistent customer experience
The need of the hour is to deliver seamless, smooth and most essentially, consistent customer experience. When we speak of consistency, the key points we highlight include-
Ensuring relevance, quality and context of experiences to avoid customer vanish
Quick interaction and response are at a centre for excellent CX. According to Forrester, 45% of customers in the US shall abandon online purchasing if they do not get quick answers to their queries.
Customers look for instant gratification which comes from personalised and immediate experiences across timelines, platforms, and channels.  
Modern customers look for frictionless experiences from brands by way of round-the-clock communication. That is why 66% of the customers believe that they are more likely to choose brands that value their time.
Consistency means that brands do not abandon their customers after product or service delivery. However, in the digital landscape, the damage from poor CX can be repaired with technology innovations and human intelligence.
Transparency around data privacy & security
Cyber security statistics are alarming, which is indicated from the fact that around 30,000 websites are hacked globally on a daily basis. In such a scenario, dealing with customers' privacy concerns, security, data breach, and transparency continues to remain a top challenge for brands. To deliver an outstanding customer experience, the brands must assure customers about what they're doing to mitigate such risks.
The marketing teams collect actionable insights and comprehensive analytics through different touchpoints. Proliferation of numerous mobile and digital technologies has also led to data accumulation through external and internal sources. Lack of efficiency in managing this huge chunk of information can often lead to data loss, information misuse, and security breaches. As a part of excellent customer experience in 2022 and beyond, the brands must implement tighter cloud security and privacy practices.
In 2021 there has been an industrial change which affects the ability of marketers to accumulate and use customers' data. From Google eradicating third-party cookies to Apple's iOS15 updates there have been key reforms in the way customer data is being used. Yet, the vendors must instil a level of trust in customers by ensuring a higher level of data security.
Conclusion
Proper planning can result in a unified customer experience through a robust data infrastructure. This helps brands in making wiser decisions, while also delivering quality customer experience. Customer experience in 2022 is going to be focused on standardisation and consistency of communication across channels, understanding emotional analytics and customer's journey, while having transparency about security and data privacy.