Tracking outbound website traffic on your Drupal website : Link Click Count
We proudly announce the release of Link Click Count, a Drupal module meant to track the number of clicks on specific links on a web page. This module helps you to monitor the web traffic, based on the number of clicks on a specific set of link fields on a particular web page.
Link Click Count gives real time information based on the user activity on any web page with link fields that may have internal or external links. This module can be a great aid in formulating an effective digital marketing strategy based on the user behaviour indicated by the clicks on certain strategic destination URLs on a web page. For instance, the count of clicks on a link leading to the Landing page on a website or download links for value-adding resources like e-books can help a digital marketer in fine-tuning their marketing automation strategies.
Installation Steps
The Link Click Count Module has three dependencies:
Link module
Views module
Views Distinct module.
These modules need to be downloaded and installed before enabling Link Click Count. The next step is to copy the entire Link click count directory to the modules directory (e.g. DRUPAL_ROOT/sites/all/modules) and enable the Link Click Count module at [admin/modules#edit-modules-fields].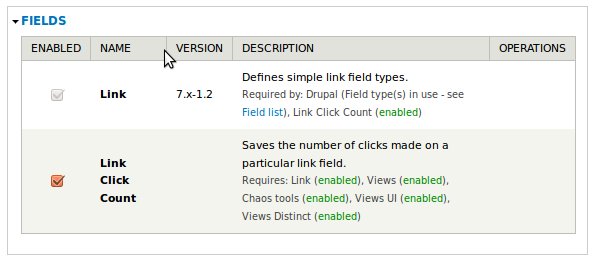 Configuration
To configure the Link Click Count Module, the first step is to visit any link field setting page [admin/structure/types/manage/your-content-type/fields/]. The "Link Clicks Count Configuration" section has the option to "Save the clicks happened on this link", which will configure the module with ease.

You can download the module here.
The Link Click Count Module can be a simple yet effective tool for Website Traffic Analysis. As the results generated are easy to analyse without any technical expertise required to infer them, this module is particularly useful for people from non-technical backgrounds.
If you have any suggestions to improve the module further or if you would like to add a customized version of this module to an existing project or a venture in the offing, feel free to contact us. We at Valuebound are committed to providing you with enterprise Web Solutions meant to turbofire your business initiatives.