The global cloud computing market in the education industry grew at more than 26% CAGR until  2021, said the Technavio market research. This translates to the estimated market value of   $25 billion in 2021, up from $8 billion in 2016. Cloud experts suggest reduced cost of ownership, ease in data analytics, and mobile friendly cloud platforms are key factors behind such a growth. In this article, we will look at these reasons in detail.
Cloud as transformation enabler
Recent Ecosystem AI study report listed top priorities for the education sector. Personalised learning, analytics based solutions like student profiling, needs assessment, curriculum gap analysis came as top priorities. Cloud based solutions help implement such top industry needs with enormous ease of implementation, providing secure, scalable and dependable solutions. Top vendors in cloud solutions for the ed-tech industry are Microsoft, Oracle, Cisco Systems, IBM, and Adobe Systems.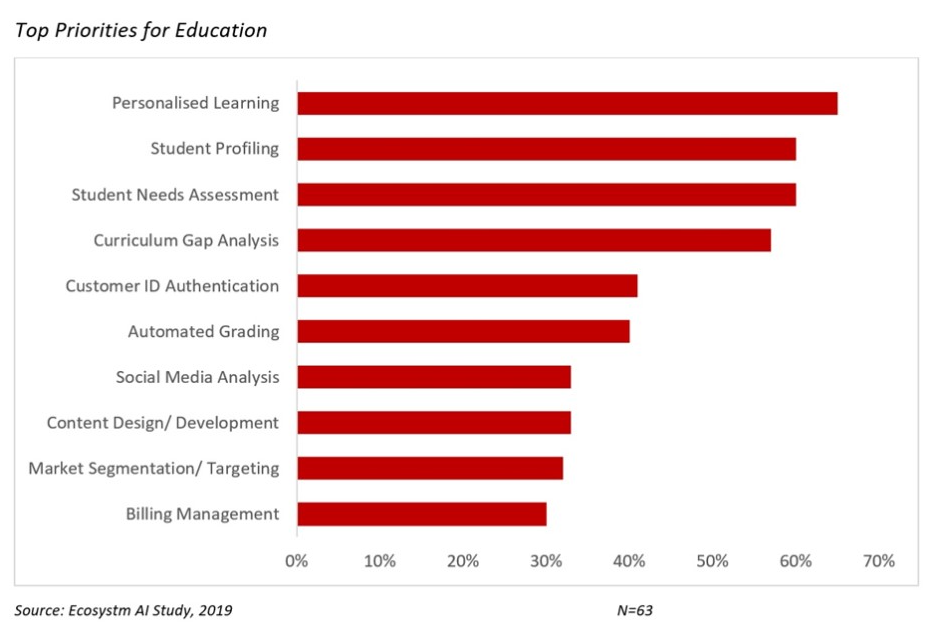 Enhanced Accessibility & Collaboration
With the advancement of technology in pedagogy, cloud enables enhanced accessibility to multiple stakeholders, whether they're on-campus, or remote. Cloud enables better collaboration as well through a range of tools for virtual syncs even across mobile devices. Productivity suites like Microsoft Office 365, and Google's G Suite, along with cloud migration through Amazon Web Services (AWS) and Microsoft Azure, are some of the best ways in which schools can enhance access.
Efficiency & Boosted Productivity
Tools like Google management console can be used for cloud device management. Such tools tend to boost efficiency and are quite popular among K-12 (primary and secondary education) models. Education institutions require tremendous administrative work by not just teachers, but the allied personnel as well. Cloud can easily help in streamlining workflows across different teams leading to increased productivity.
Scalability & Agility
Cloud computing offers applications' ability to match any number of users. Various tools of cloud enable scalability especially during peak times such as admissions, assignment submissions, or training registrations at universities, colleges, and K-12 institutions. Cloud solutions provide the ability to quickly scale up and down with unparalleled agility.
Simplified information sharing
Since cloud computing leads to minimal hardware resources, therefore the applications tend to operate seamlessly across multiple devices among teachers, students and other stakeholders. Cloud also creates a centralized system that can manage faculty records or dense attendance, which leads to a simplified and integrated transformation.
Data Security
When education institutes choose vendors for cloud services, they also tend to reduce hassles around compliances and data security. The shared responsibility model (SRM) creates such a scenario which does not hold cloud consumers responsible for security controls entirely from the applicable framework that they use. Some of these controls are shared with the cloud service provider, thereby bringing down an institute's responsibility for data security in entirety.
Cost Effectiveness
Reduced costs on infrastructure, on-premises hardware and equipment, complex wired phone systems, and institute's recurrent and upfront expenditure- is all possible by use of cloud-based technologies and communication platforms. Cost effectiveness of using cloud roots from using everything that an institute has been paying for. Whether it's single sign-on interoperability, applications or servers- putting everything in a comprehensive package can lead to decreased expenses and thorough cost effectiveness.
What next for cloud solutions in 2022?
Educational institutions that put in a chunk of enterprise resource planning (ERP) and CapEx in enabling digital transformation (DX) are going to desire the most churning of their resources   than ever before. Here are the top predictions for Ed-Tech with cloud solutions in 2022 and beyond:
Hybrid or blended learning is here to stay  due to increased  availability of digital resources.  
Models like community cloud deployment and hybrid cloud deployment will see considerable adoption rate in the education market.
Education industry will see exponential growth in  Infrastructure as a Service (IaaS), and Software as a Service (SaaS) based service models.
Conclusion
Cloud in education enables several benefits including effectiveness in knowledge delivery, and efficiency in business process management. Versatility, accessibility, scalability, agility, and cost-saving are some of the inherent benefits brought to the education industry by cloud. With remote learning gaining needed popularity, cloud computing seems to be a digital enabler in the transformation process for the education sector.