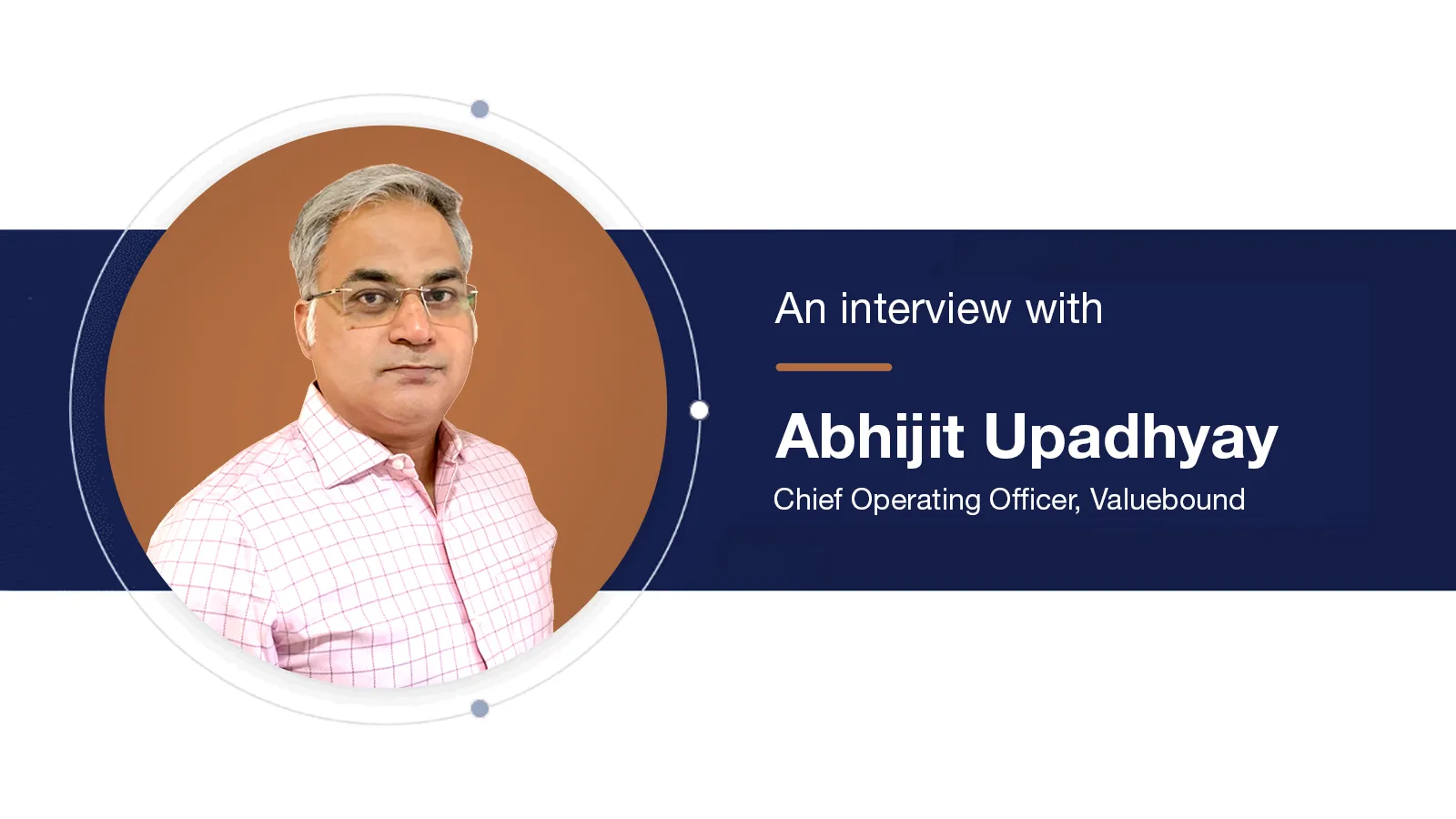 Valuebound's Journey to Great Place To Work Certification: Interview With Abhijit Upadhyay
Valuebound, the leading digital transformation company, recently earned Great Place to Work® certification for the year 2021-22. Abhijit Upadhyay, Valuebound's Chief Operating Officer, shares the journey to the most prestigious "employer-of-choice" recognition in this interview. 
Taking into perspective the 10-year long history of Valuebound, what do you have to say about Valuebound's accreditation in 2021 as a Great Place to Work® (GPTW) -certified organization at this stage?
Abhijit: Perseverance and accepting the need for change helps any individual or an organization to transform. This 10-year-long journey has given us the opportunity to learn and improve upon employee experience. The grind of 10 years has enabled us in making key policy changes, the result of which is here for you to witness.
What according to you makes an organization a great place to work? And in the context of Valuebound, what do you think are Valuebound's unique policies or ethics that earned it GPTW certification?
Abhijit: For me a great place to work must be able to give a sense of belongingness towards the organization, so that the employees feel self-motivated towards their professional goals, and company's objectives, on the whole.
Pace of change speeds up, when the entire team is thoroughly driven towards a common goal. And, this can only happen when each one of us has a common gene in our DNA and that is of ownership.
If I talk about myself, I give one third of my valuable time of the day to the organization and to ensure my other two third of the time is happy. I need to take that happiness back to my home. This can only happen when my workplace is a fun place to work for every single employee.
What would be your message to a prospective employee of Valuebound?
Abhijit: Success of a journey depends upon how you start it and with whom. I am sure together as one team we will define each others' journey paths and be a guiding light to each others' career.
Between people and revenue, how do you balance? The pressure of revenue, hard decisions etc. impacts the environment. How do you manage this inherent dichotomy?
Abhijit: We are in a growth stage right now, so definitely revenue is an important fuel to propel growth. However, I also strongly believe that if we invest in people  right now and always. In the short term it may feel that our margins are impacted, but the long term benefits will outweigh any counter theory. It's important to invest in people's engagement for the enduring success of an organization.
India is at a cusp of digital literacy and digital transformation. There's extensive support for the IT industry in the present scenario. Where do you see Valuebound in the light of this scenario?
Abhijit: Traditionally we have catered to the digital needs of big enterprises, three of which happen to be fortune 500 companies. However, in the last few years we have taken a conscious decision to collaborate with start-ups and help them in translating their ideas into products and solutions. Start-up space in India is warming up and we see a great opportunity for us to play the technology partners to the young and upcoming entrepreneurs or help them improve and scale up the process. We are working with few unicorns and have enabled delivery at a faster pace. Enterprises are shifting away from traditional concepts of technology delivery. They are open to work with organisations of our scale and have been continuously giving us opportunities to deliver the goods. 
Office culture and working scenario have changed a lot after COVID. What do you think is the role of an organization to smoothen people's journey into this new mindset while also coping with the pressure of changed working dynamics?
Abhijit: As an Organization we focus on our employee's mental and physical wellness. Our policies and programs have consistently focused on ensuring there are no red lines crossed when it comes to having a good work-life balance. I would like to thank our employees for the agility they have shown in recalibrating their working ways due to the pandemic. There has not been any significant impact on economic dynamics. I also want to extend my gratitude to all our clients for being accommodative in these testing times.
If you were to change three things about Valuebound for the better at this stage, what would they be?
Abhijit: As stated earlier, we are in the transformation phase where we are bringing in changes. This paradigm shift is happening at all three transformation levers, namely people, process, and tools.
GPTW certification is seen as a gold standard for any organization. Now since Valuebound has been recognized as one of them, what's next in store after GPTW certification? What are your next steps  to make Valuebound even better?
Abhijit: GPTW certification comes with the responsibility of maintaining the momentum and improving ourselves. Workplace becomes great only when we continuously work towards improving the employee engagement and experience. We are growing at a rapid pace and to extend the same experience, to wow our employees at a bigger scale is something that I am looking forward to.
In the end I would like to summarize by extending my warm gratitude to our employees, leadership team, and most importantly clients for being a part of wonderful 2021. Looking forward to 2022. Happy New Year and Happy Holidays to you all, from all of us at Valuebound.