Introduction
The world of education is changing. With the rise of technology, students are no longer limited to learning in a traditional classroom setting. They can now access educational content from anywhere in the world, at any time of day.
To meet the needs of this new generation of learners, we have created a unified learning tool that combines the best of both worlds: the interactivity and engagement of live classes with the convenience and flexibility of online learning.
Our learning management system (LMS) makes it easy for instructors to create and deliver live classes, as well as record and share their sessions with students who are unable to attend in person. The LMS also includes a variety of interactive features that allow students to participate in class discussions, ask questions, and complete assignments.
In addition to live classes, the LMS also offers a wide range of other educational content, including pre-recorded lectures, tutorials, and quizzes. Students can access this content on their own time, at their own pace.
The LMS is built on Drupal CMS, which makes it easy to customize and extend. We are constantly adding new features and functionality to the LMS, based on the feedback of our users.
Challenge
To create a learning app that would work as a unified learning tool across LMS product
Our client, an American educational publishing house, is a dynamic provider of quality educational products and services.
The client wanted an application that would work for other existing LMS in the institutions serving higher education. The idea behind this project was that the universities/ colleges would use LIVE classrooms and quizzes provided through the unified platform rather than multiple tools available earlier.
The purpose is to cater to a larger market, especially in the present times where there has been a dramatic shift in the interaction between students and teachers across all levels of institutions during and post-pandemic. 
Live Interactive Ed-Tech Solution Integrated with Enterprise LMS and Seamless Video Streaming Capability
We started the journey by collecting feedback from multiple business verticals, understanding their diverse needs, and content governance requirements. We built a live interactive ed-tech solution integrated with LMS and video streaming capability. It also has assistive learning capabilities like polling etc.
Once the LMS was built to suit the learning and access requirements of our client, we started integration with the LTI 1.3 standard. This was difficult to build as every LMS has a different structure, so we had to adopt an agile development approach. So, our team decided to build an LTI compliant bridge which could help connect all LMSs.
The application set out to be an out-of-the-box innovative solution for Ed-Tech companies to handle multiple aspects of online LIVE interactive learning.
The system then evolved into making teachers edtech operators who could not only teach the content but also share it with the students with archived data. This allows students access to classes like never before at their fingertips.
The tech stack changed drastically from being a custom enterprise LMS built on the Drupal CMS platform to a sophisticated WebRTC-based system that can integrate real-time audio-visual communication via the APIs. We used open-source libraries to develop group video applications and to handle broadcasting at a scale in real-time.
Benefits
Valuebound's product engineering team cloned the application to appear like Moodle, which is LTI-compliant. Hence, the app works as ready-to-go for any LMS. We used Moodle as a bridge for four LMS integrations i.e., Moodle, Canvas, Blackboard, Desire to Learn (DTL).
Interoperability
There can be more than one way of creating LMS, and some of the standards of complex content creation and integration in LMS are xAPI, AICC, and Learning Tools Interoperability. One of the greatest advantages of LMS is interoperability. Learning Tools Interoperability or LTI is the IMS standard that aims at delivering a uniform framework to integrate any LMS product with the learning application.
Apps built on core LTI have certain advantages, which are explained through fig.1 below.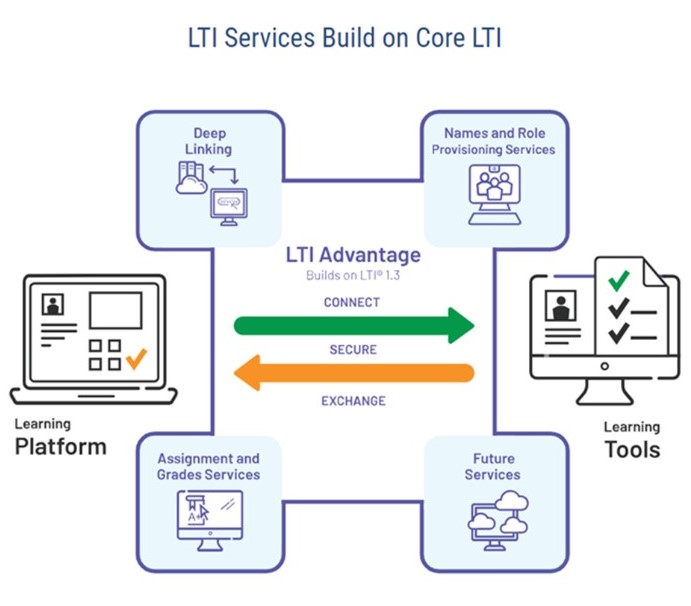 We have integrated a real-time Live class with live quizzes in the Platform/ app. It works for all IMS Certified LMS. The Integration is user-friendly and does not require any manual interference. All authentication, course, user creation, and quiz sync are automated and handled in the backend.
Scalability
The system is presently capable of handling 500 concurrent students in the same class who can take the online class and get the content anytime they need to access it. This can scale to any number of users given the size of the server capacity. Once the class is completed, the system will be able to merge all the content into a single file and store it for further use by the students.
Easy Assessment & Grading
The instructors can easily assess the performance of students. The existing decoupled Live Classroom Platform is built on Drupal 8, with the Functionality of real-time broadcast (eg. Audio, Video, ScreenCast), classroom chat, real-time class status, attendance proximity, questions, presentation slides, notes, and Quizzes.
The LIVE classroom is the additional capability in the Student Engagement App, apart from the existing functionalities of all LMSs. 
By using Moodle, we catered to the client's demand for quizzes to be accessed in the Live classroom on the fly. Moodle helps teachers in creating live quizzes on the app, while also assessing students' performance and grading them on the go.
Wrap up
Success Results
Valuebound demonstrated interoperability, scalability, accessibility, operational ease & efficiency for educators and students with API integrations and innovative engineering.
500 concurrent learners on video platform accessing the same online class
Over 2 million learners access the unified learning platform
3000 grades processed per minute
Used in 250+ centers around the globe
Recorded Content accessible to learners anywhere anytime
The unified ed-tech solution provides unique and innovative Ed-Tech product offering for the edtech industry. The application provides an out-of-the-box innovative sophisticated WebRTC-based system integrating real-time API communication.
Valuebound's solutions helped the client get a powerful, scalable, future-proof platform that enables efficient operations and new content delivery methodology through an easy-to-use interface.
Valuebound's edtech solution helped the client achieve more business value by reducing the time they spent on supporting older systems, hence bringing back their focus on growth initiatives.
Services Provided
Strategy and Consulting Services
Product Engineering
API Integration
DevOps
Drupal Development
Drupal Support
Testimonial
I wanted to take a moment to thank you and your team for the improvements to the tool. I am thrilled to report that I have had a nearly perfect experience this semester. Polls open and respond quickly, even in my lecture of 200 students. The poll response numbers increase as students respond (formerly it stayed at zero). The poll results now display when I click the button from the poll - this is a BIG help to me! No student has had a problem with the app that was not THEIR OWN fault! (They were enrolled in the wrong section, had an old browser, etc.). The attendance report now contains usable data in a format that can be manipulated and imported. A standard presentation pointer now advances slides from within the app. This has made my life so much easier in lectures :-)

Bottom line. You nailed it! This app is an absolute joy to use now.