Drupal Camp Asheville 2023 was a two-day event that brought together Drupal users of all levels for hands-on training, community contribution, knowledge sharing, and social events. The event took place in Asheville, North Carolina from July 7-9, 2023.
Drupal Camp Asheville 2023 proved to be an exceptional gathering for developers, regardless of their expertise levels. The camp offered a wide range of sessions encompassing various aspects of Drupal, including development, theming, administration, and security. Over 200 dedicated individuals actively engaged in code sprints, diligently worked on documentation, and actively sought connections with fellow Drupal enthusiasts.
Team Valuebound at Asheville DrupalCamp 2023
We, at Valuebound, are thrilled to have supported the camp as Silver sponsor. It brings us great joy to share that two of our team members had the opportunity to participate as speakers, contributing their expertise to the event. Additionally, one of our team members contributed two insightful articles to the camp.
Let's delve into the highlights of these engaging sessions & articles and explore the significance they hold for Drupal professionals and businesses alike.
Dinesh's session on "Career Opportunities in Drupal" captured the attention of Drupal enthusiasts seeking growth and development in the field. He emphasized the ever-increasing demand for Drupal expertise and highlighted the vast range of career opportunities available. From front-end and back-end development to site building, theming, and module development, Drupal offers a diverse and promising career path. He provided valuable insights into skill development, certifications, and community involvement, empowering attendees to embark on a rewarding Drupal career journey.
Neeraj's session, "Embracing the Future of Drupal with AI," unfolded an enthralling tale of Drupal and artificial intelligence converging, opening doors to boundless innovation in the realm of digital experiences. Attendees eagerly explored the impact of AI on Drupal, unearthing its transformative potential, while gaining insights into overcoming challenges and embracing this dynamic fusion. Attendees discovered how AI can revolutionize content creation, automate processes, and deliver highly personalized experiences, propelling Drupal to the forefront of cutting-edge digital solutions.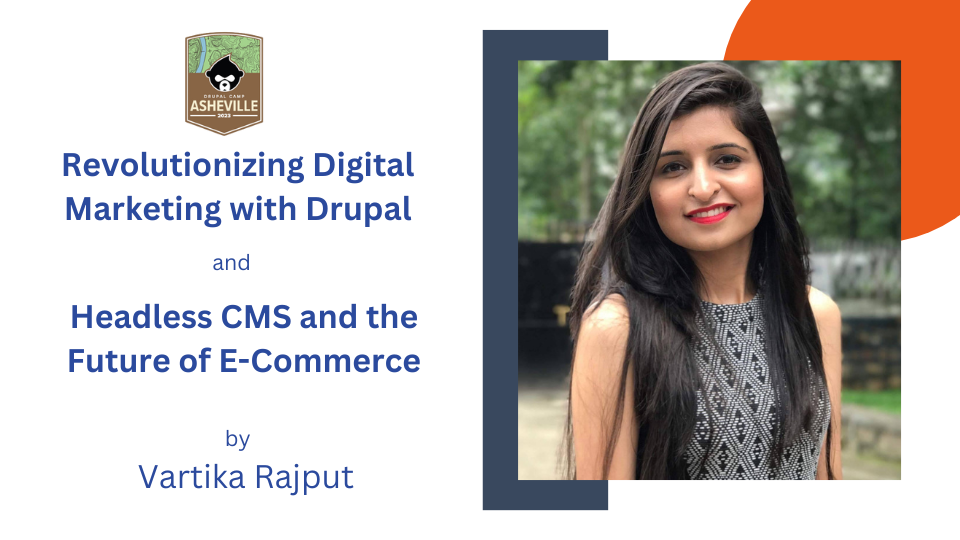 In Vartika Rajput's article, "Revolutionizing Digital Marketing with Drupal: Key Insights for 2023," she unravels the transformative power of Drupal, unveiling how it breathes life into captivating and tailored marketing experiences. With a keen eye on content marketing, user experience, and analytics, she unveils the secrets of mastering the ever-evolving digital marketing landscape.
In her second article, "Headless CMS and the Future of E-Commerce: Opportunities and Challenges," Vartika delves deep into the untapped potential of headless CMSs, unlocking their ability to reshape the very fabric of the e-commerce industry. With unrivaled vision, she reveals how these powerful tools empower businesses to create flexible, scalable, and boundary-pushing e-commerce solutions.
Conclusion
Drupal Camp Asheville proved to be an enriching experience, fuelling enthusiasm for career growth and showcasing the limitless possibilities that Drupal and AI can offer. Dinesh's session emphasized the diverse career paths available within the Drupal ecosystem, while Neeraj's talk shed light on the exciting future that lies ahead with AI-driven innovations. Lastly, Vartika's articles were centered at elevating marketing strategies by leveraging the transformative power of Drupal.
As a leading Drupal agency, Valuebound is committed to empowering professionals and businesses to leverage the full potential of Drupal and embrace emerging technologies to stay at the forefront of digital transformation. To learn more about Drupal, career opportunities, and how Valuebound can support your digital journey, reach out to our experts today.