From the mid of 2019 to December 2022, 2129 individuals from 616 different organizations, including Valuebound, worked together as part of the Drupal community to successfully address 4083 issues. As a result, the highly-anticipated Drupal 10 became available for use on 15th December 2022. 
Drupal 10 is designed to ensure long-term stability and security for users, with all future updates and features implemented. Firstly, it provides the latest features and improvements that can help improve your website's performance and security. Additionally, it ensures that you receive the latest security coverage, which is essential in keeping your website safe from potential vulnerabilities.
By upgrading to Drupal 10, you are ensuring that your website is compatible with future releases, making it easier to update. This blog gives you a release plan for the Drupal version and how you can prepare your business to upgrade to the latest version of Drupal.
What is Drupal Version 10.0.2?
The latest Drupal 10, 10.0.2 has been recently released on 18 January 2023. This release is specifically designed to fix bugs and is now ready to be utilized on live production sites. In terms of security, Drupal 10.0.x will be covered until December 2023.
Drupal 10 Release: How to Plan
Depending upon which stage you are in the Drupal journey, we suggest the below plan to upgrade to Drupal 10 (Fig. 1):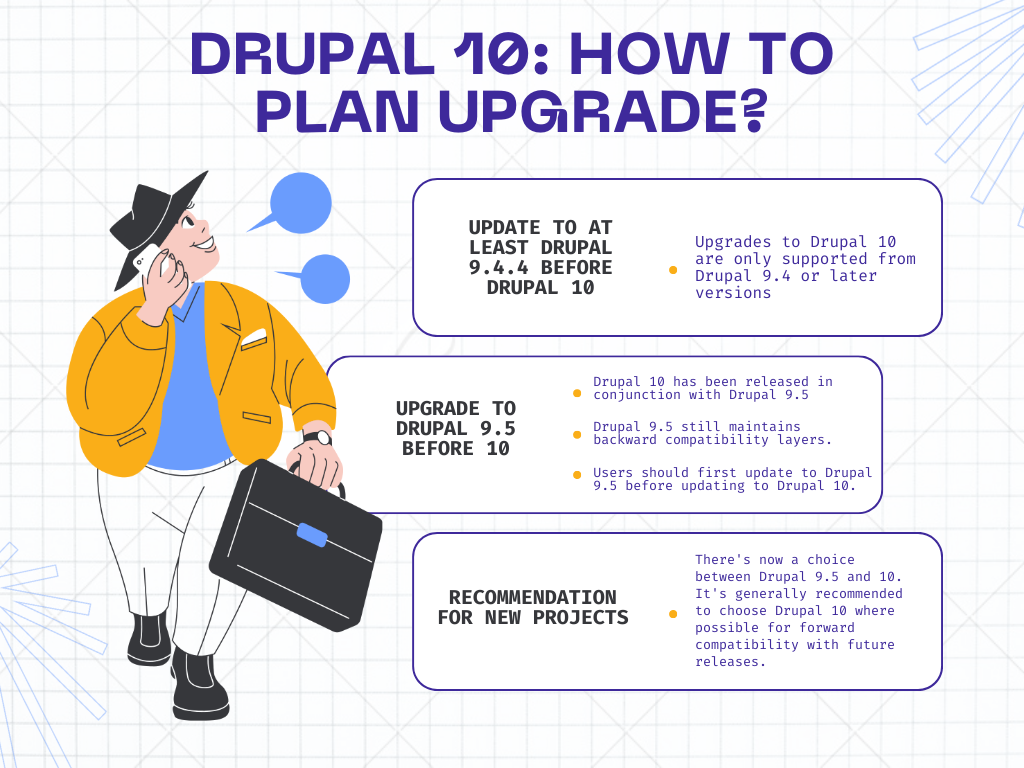 Update to at least Drupal 9.4.4: When upgrading to a new major version, you can typically do so from the last minor version of the previous major version. However, there is an exception to this rule with Drupal 10. Upgrades to Drupal 10 are only supported from Drupal 9.4 or later versions.
Upgrade to Drupal 9.5: Drupal 10 has been released in conjunction with Drupal 9.5. While Drupal 9.5 includes many of the same changes as Drupal 10, it still maintains backward compatibility layers that have been added through Drupal 9.5's release. Therefore, for the smoothest upgrade path users should first update to Drupal 9.5 before updating to Drupal 10.
Starting a new Drupal Project: For those starting new Drupal projects, there's now a choice between Drupal 9.5 and 10. It's recommended to choose Drupal 10 for forward compatibility with future releases.
Both 10.0 and 9.5 include all the latest changes, and they have the same APIs and features aside from a few edge cases. This also means that modules and themes can be compatible with Drupal 9 and 10 at the same time. 
However, to ensure easy updates in the future, it's best to plan to adopt Drupal 10 since it will have future releases.  
To make the process of upgrading as seamless as possible, there are several automated tools available that can help you prepare for the transition. These tools can help you check the compatibility of modules, themes, and sites with the new version, and make any necessary adjustments before upgrading.
Release Plan: Which release do I choose?
Following is the best release plan that is recommended, according to Drupal.org (Fig. 2):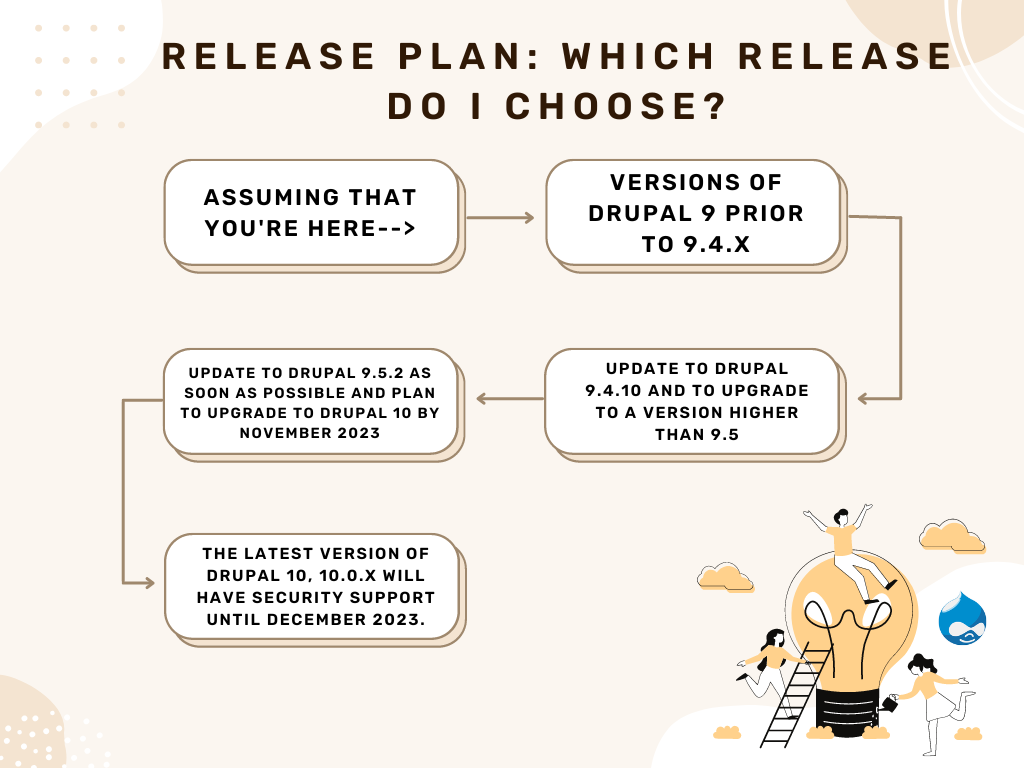 The latest version of Drupal 10, 10.0.x will have security support until December 2023.
If you are currently using Drupal 9.5.x, it is recommended to update to Drupal 9.5.2 as soon as possible and later plan to upgrade to Drupal 10 by November 2023.
For those using Drupal 9.4.x or earlier versions, it is recommended to update to Drupal 9.4.10 and to upgrade to a version higher than 9.5 in the near future.
We need to remember that versions of Drupal 9 prior to 9.4.x have reached their end-of-life and will not receive any security coverage. Staying with Drupal 8 or earlier is not recommended now as they have reached end-of-life.
Get Ready to Upgrade
There are two ways to update the Drupal core:
Method
Audience
Manual

Unfamiliar with a command-line interface 
Disinclined to learn Drush or Composer, and 
Unable to access the shell

Composer 
(Recommended)

Comfortable using command-line interface 
Possesses access to the command line shell, and 
Eager to utilize the capabilities of Composer command line tools
In conclusion, upgrading to the latest version of Drupal 10 helps you stay updated with recent features and security updates. If you are looking to discuss your Drupal upgrade plan, book an audit with our Drupal Site Audit tool, or give us a call.